For nearly a decade, the Netherlands has been one of the world leaders in the field of 3D printing, being a homeland for many renowned brands like Ultimaker, FELIXprinters, Leapfrog, colorFabb, Formfutura and Shapeways. For some time another Dutch company is trying to mark its presence on global markets. Today Tractus3D – a manufacturer of large-format machines with delta kinematics announced the premiere of its latest device – the T2000.
The company has managed to establish itself in the market of professional FDM / FFF 3D printers in a short amount of time. Unique in the product range are 3D printers with a large build volume and 3D printers that can handle high temperature (high performance) materials like PEEK.
Traktus3D believes that the large format 3D printers offer customers the freedom to print life size objects without build volume constraints at a high resolution. Tractus3D differentiates itself by developing powerful 3D printers that are still affordable. Hereby they make prototyping and producing with 3D printing accessible for every business.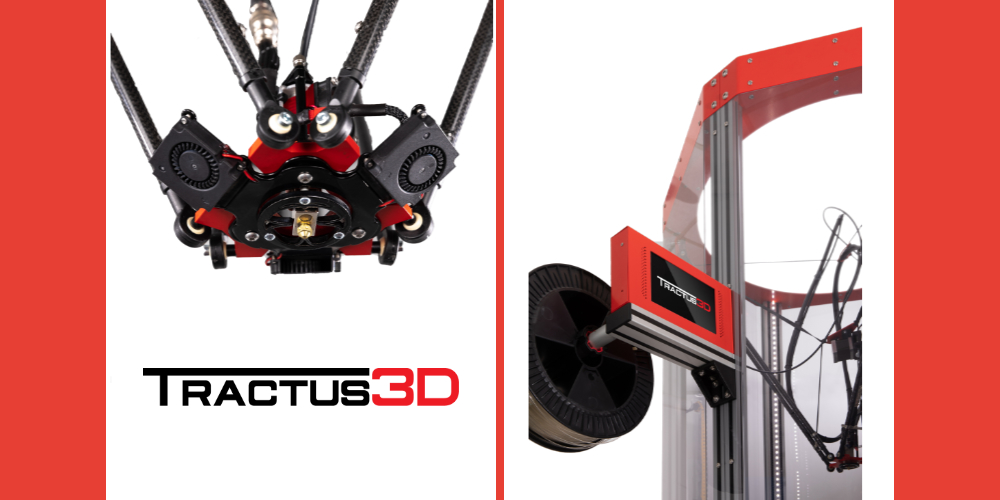 The offer of company consists of eight 3D printers:
DESK series: T650, T850, T1250 models
PRO series: T650P, T850P models
LARGE VOLUME series: T3000, T3500 models
brand new T2000 model (also of LARGE VOLUME series).
Tractus3D T2000 3D printer is capable of printing up to 1 meter (39.4") in height and 68 cm (26.7") in diameter. This large volume 3D printer comes with a size of just 2 meters (78.7") and is packed with the latest innovations from Tractus3D, including the fast print head – the F033L, which ensures print speeds up to 300 mm/s. The T2000 is specially designed to be suitable for every company and office space. The new large format 3D printer fits, with the width of 82cm (32.3"), through every normal door. Where the biggest printers from Tractus3D need a ceiling of 3 meters and higher, the T2000 is just 2 meters high. Ensuring it fits in every normal building. Making the T2000 a printer that can easily be moved around between office and workspaces.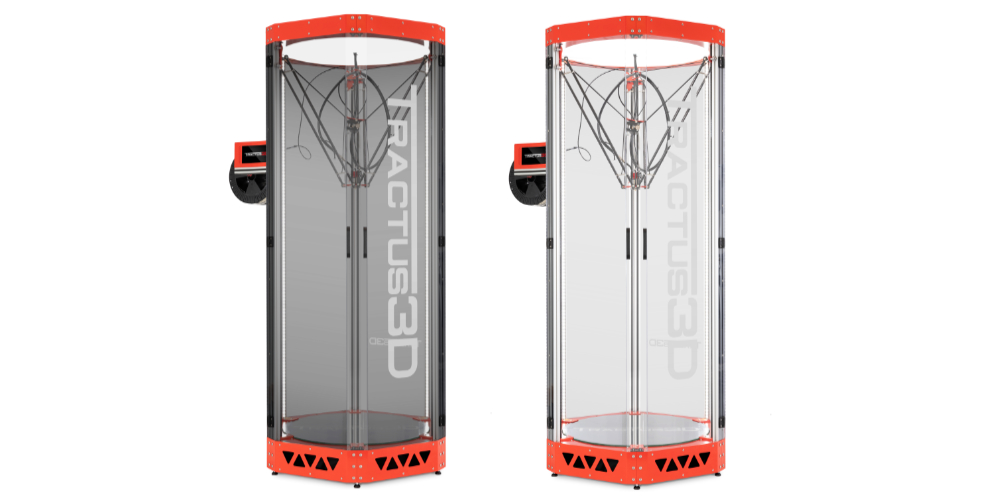 Technical specification:
build width: 680 mm diameter (26.7")
build height: 1000 mm (39.4")
speed: 400 mm/s
XYZ resolution: 20, 20, 50 micron
layer resolution:

0.6 mm nozzle: 400 – 50 micron
0.8 mm nozzle: 600 – 50 micron
1.0 mm nozzle: 800 – 50 micron
1.2 mm nozzle: 1000 – 50 micron
1.4 mm nozzle: 1200 – 50 micron

connectivity: LAN and display 7" color touchscreen (17.8 cm)
build plate: heated glass build plate; temperature up to 110 °C (230 ºF)
automatic bed levelling with probe unit
nozzle diameter: 0.6 mm, 0.8 mm, 1.0 mm, 1.2 mm, 1.4 mm
nozzle temperature up to 300 °C (572 ºF)
supported materials: PLA, PRO1, PET-G, ABS, ASA, Facilan C8, TPU/TPE, Nylon, PC, Fillers like woodfill
filament diameter 1.75 mm
software: supplied software Simplify3D with 1 license (usage on 2 computers).
The price for the 3D printer is € 24.900. 3D printer is shipped from the 1st of may on a first come first serve base.