The COVID-19 disease pandemic caused by SARS-Cov-2 coronavirus has become a fact. Something that couple weeks ago was at most an opportunity for some Europeans to create and / or forward a mocking meme, today causes total panic, chaos and confusion on an unprecedented scale. In many European cities, citizens felt fear mixed with desperation, which motivated them to spontaneous assault on grocery stores and buying out the entire assortment (not even the usual bypassed vegan departments survived). People split naturally into two groups – those who already have supplies by the end of the year and those who believe (or want to believe…) that "food will not be lacking".
At the same time, along with the threat of developing a coronovirus, the threat of a collapsing global economy is growing exponentially. Stock exchanges around the world are drowning, freight and logistics are barely falling, and trading companies are sinking into melancholy inevitably leading to despair. The tourism and event industry are already going to the intensive care unit. Office workers from every production and service sector are massively sent home, where they learn about the charms of remote work. Meetings, training sessions and conferences are canceled. Purchase decisions are suspended until further notice. Not counting the food, pharmaceutical and medical industries – money is starting to slow down, stuck in the wallets of its current holders.
We will face a few weeks of stagnation and watching what will happen? Maybe in a moment everything will return to normal – or maybe the world will burn and we will all die? Maybe instead of comets and meteorites that shatter the Earth, monsters from the depths of the sea ravaging metropolises, attacks of vicious space invaders or global warming, humanity will simply die of a different type of flu? Or maybe, in anticipation of global annihilation, it will lead to an economic crisis on an unprecedented scale and plunge into armed conflicts?
It is also possible that none of the above will happen – but this does not change the fact that here and now everyone is afraid.
Contrary to appearances, the 3D printing industry has not died down – life goes on there. At this particular moment, however, we will not be overwhelming you with news from the country or the world, because everyone has thoughts directed somewhere else. However, if you have a 3D printer and you feel the need to print something, we thought that it might be worth giving you some ideas for prints that match the specificity of the moment…
The following list presents 10 COVID-19 pandemic related designs we have found in the Internet. These are utilitarian things that can be as useful to you as 20 frozen pizzas or 40 cans with beans. Interestingly, some of the following items have been designed by the Chinese, who have been struggling with what we are just beginning to learn for weeks.
The fundamental aspect, which is worth considering when printing personal protective equipment is the right filament. The material must meet all functional conditions and shall be easy to sterilize. Thanks to its high chemical resistance and temperature resistance up to about 70°C, PETG can be used for the production of protective elements that must withstand multiple sterilization procedures. During disinfection, many procedures require heating the elements to a temperature above 60°C, therefore another material with lower temperature resistance (e. g. PLA) may not be suitable for this application.
29.03.2020 UPDATE
The article you are reading was written on March 12, 2020, when the COVID-19 pandemic was just entering Europe, and in the USA no one was worried about it. Today the situation is completely different and changes every day. We strive to update our list on a regular basis, adding new, interesting projects and removing the previous ones, which in our opinion overlap functionally with the new.
We launched subpage with a list of most popular designs against the COVID-19 pandemic.
---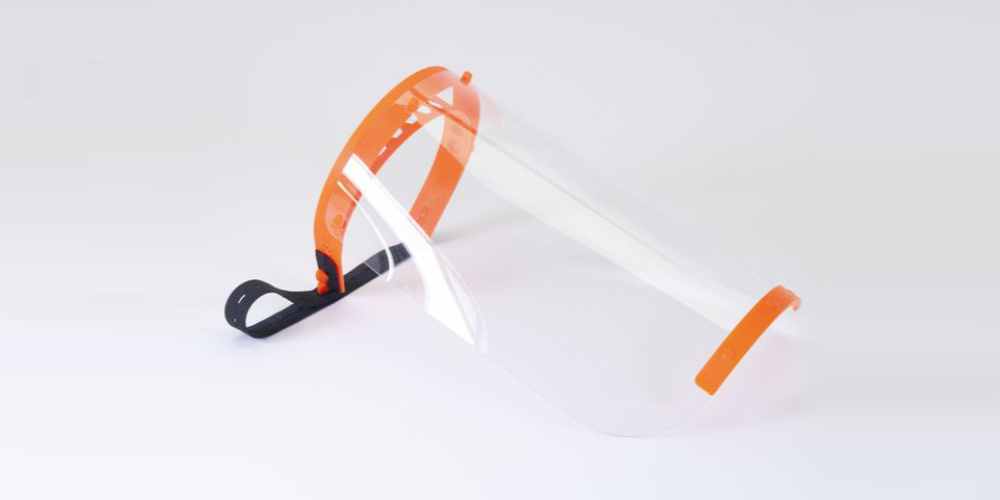 Protective face shield designed by PRUSA Research and Martin Havrd from the Vinohrada University Hospital in Prague. Approved by the Czech Minister of Health is now 3D printed, assembled and distributed to appropriate institutions. You can make your own as well, as it is open-source project available for download on Prusaprinters.org.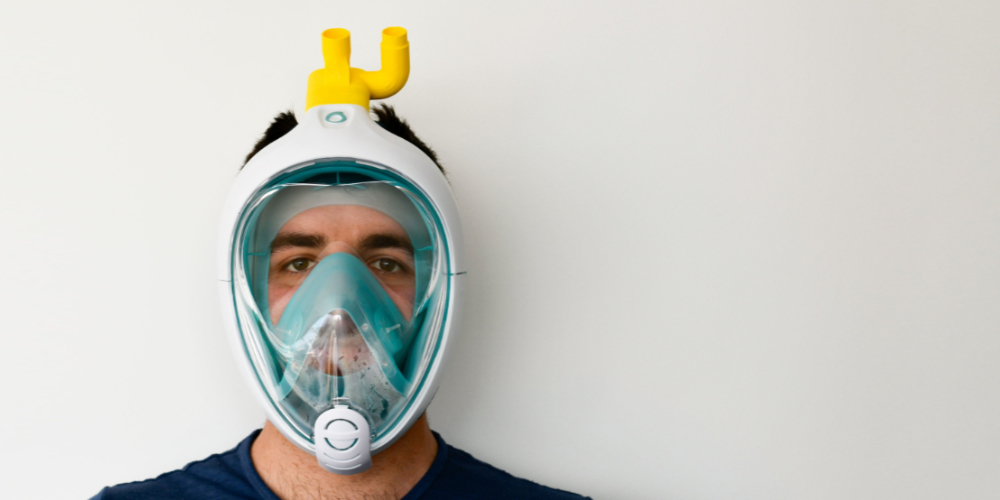 Adapter made by famous Italian Isinnova team, that turns Decathlon's "Easybreath" snorkeling mask into non-invasive ventilator. The project called "Charlotte valve" has been patented to prevent its commercialization, and is available for free download.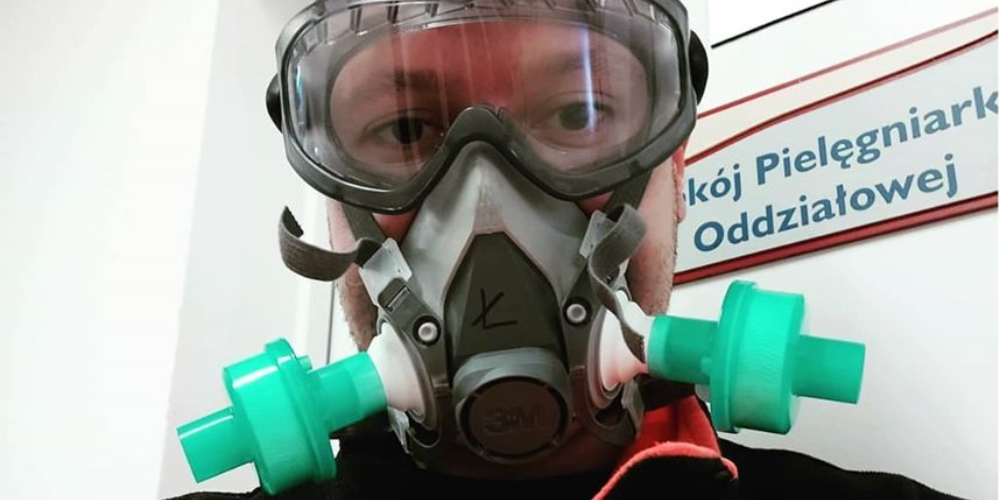 Representatives of the 3D printing industry have proved that 3D printing technologies allow to produce elements for which demand appeared only a few days ago. Polish engineer Przemek Stachura, designed a 3D printable model – 3M mask adapter to a special type of respirator filters. The model quickly caught the attention of, among others paramedics who have expressed a desire to use the solution. You can download it here.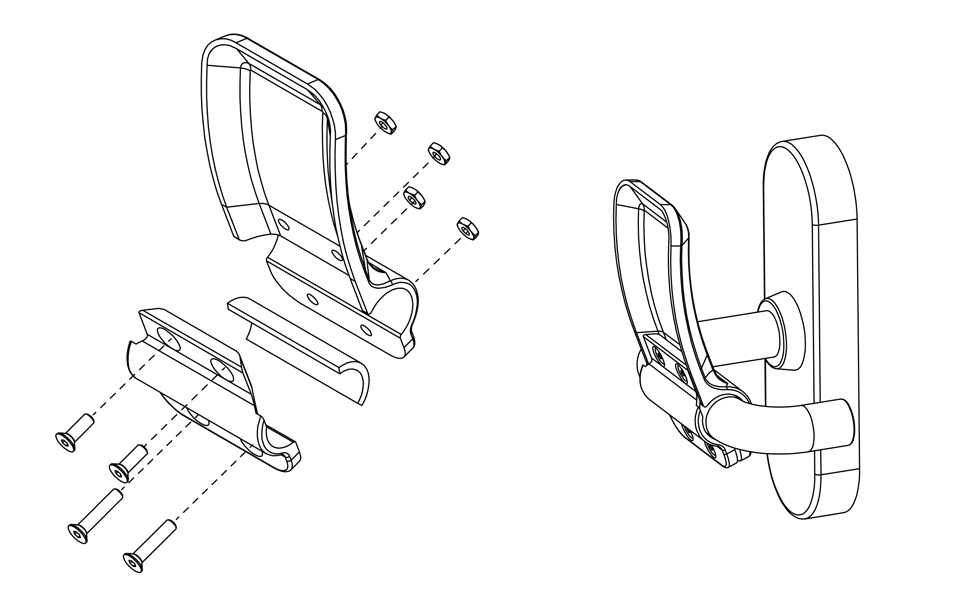 Materialise – a leading company that provides 3D printing services and produces specialized software for the needs of additive technologies, designed easy-to-use door opener that can be 3D printed on any FDM / FFF 3D printer. The opener doesn't require drilling holes or replacing door's handle – its simple to make and is very useful. Setting it up is simple: you have to fasten two 3D-printed pieces together with four screws over existing handle. Currently, this model is fit for cylindrical handles between 18 and 22 mm, but Materialise says that additional designs will be ready come soon. The design can be downloaded from here…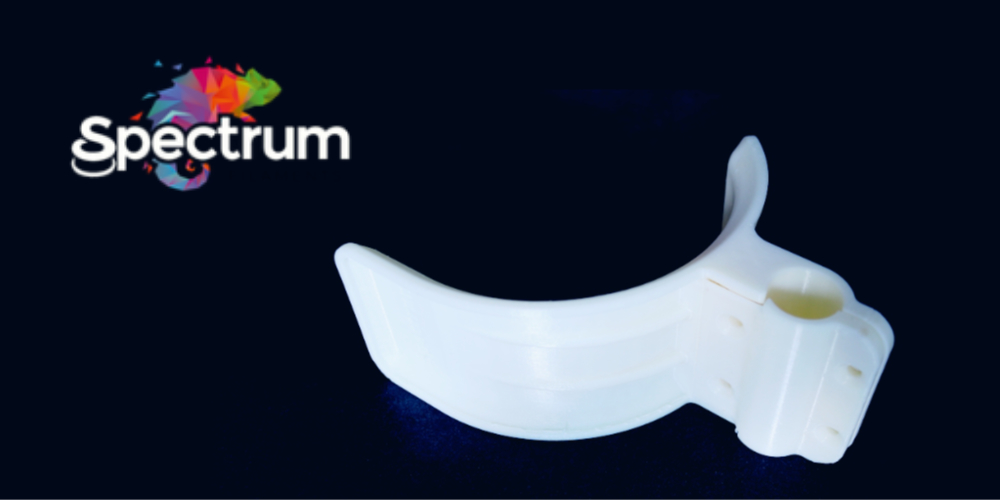 One of several alternatives to Materialise design. In contrast to it, the Spectrum Filaments version has a larger and more rounded arm contact surface with the handle. The model has been adapted to cylindrical handles. The assembly requires four screws with a nut – there is no need to interfere with the construction of the door or handle. It can be easily install at home or the workplace. The element itself is simple to print and does not require specialized technical knowledge. You can download it here.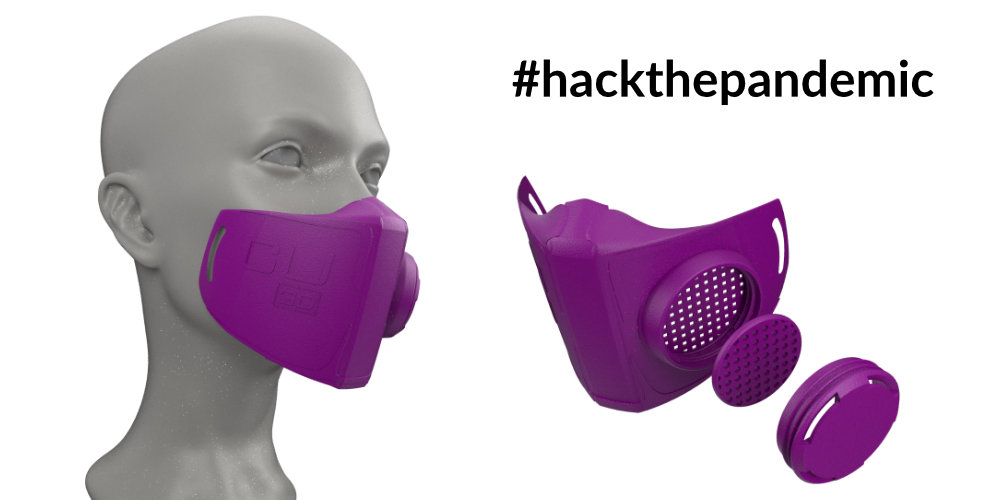 Copper 3D – A Chilean manufacturer of innovative antibacterial filaments designed the own version of the popular N95 protective mask and prepared it perfectly optimized for 3D printing on desktop 3D printers of the FDM / FFF type. The project is released under an open-source license and has been simultaneously patent pending to prevent other entities from commercializing it.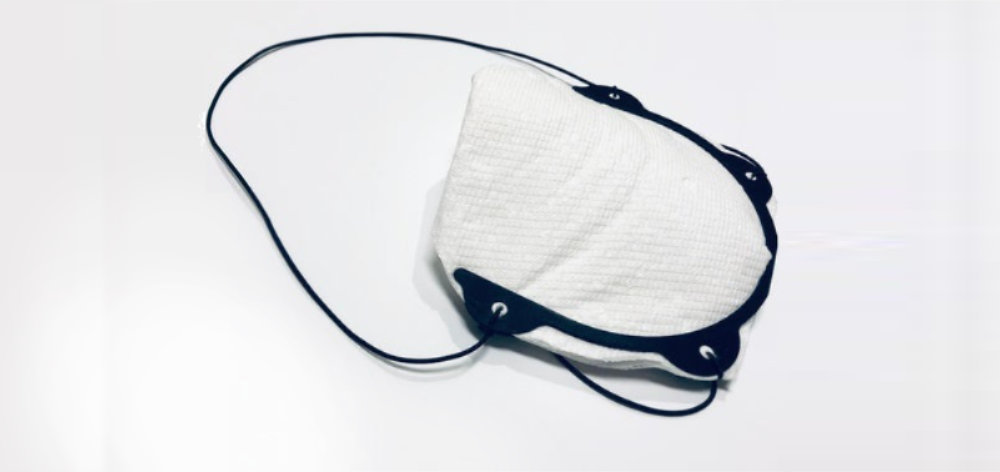 One of the first things that have disappeared from stores, which are still scarce today, are face masks. Importantly, they are also one of the basic weapons in the fight against coronavirus, which further affects their demand. The above design is the simplest possible solution – it prints quickly and in a banal way. As a filter, you can use theoretically any thing that bears the mark of any protection – fabric, coffee filter, handkerchief or paper towel. Of course, the better the material we use, the better the protection will be – nevertheless it is the simplest thing among the most useful that can be printed…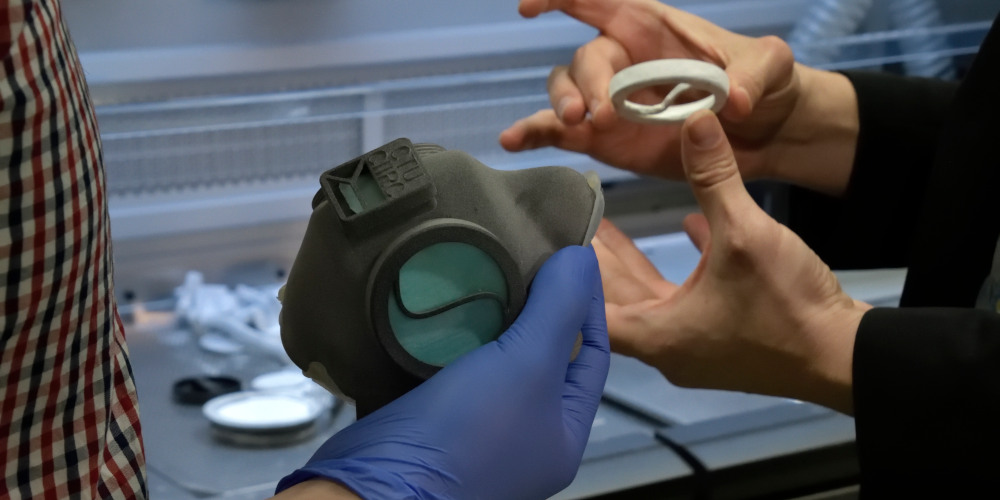 The research team from Czech Institute of Informatics, Robotics, and Cybernetics – part of Czech Technical University in Prague. They created their own prototype of protective mask – CIIRC RP95, which is a response to the COVID-19 virus pandemic. The team's goal is to create a model that will be published, widespread worldwide, and produced on the basis of distributed manufacturing. The ability to produce on demand, where the item is needed, eliminates the need for transport and reduces waiting time for it.
The design is not intended for use on home 3D printers, Researchers want to establish cooperation with enterprises and universities from around the world who have experience with MJF (or similar) technologies.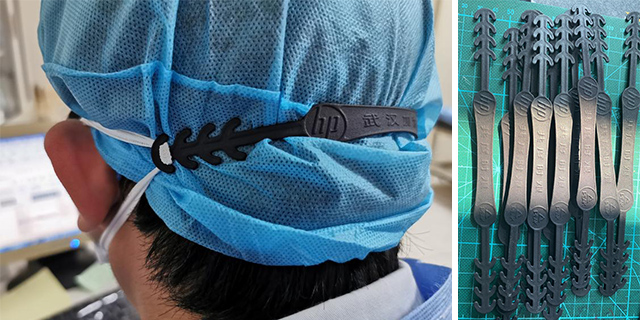 Mask adjuster helps doctors and medicians relieve ear pain forced to wear a mask for long periods of time. The adjuster was joint designed by Peak Sport Products Co. and HP, based on consultation with medical staff working heavy hours during the coronavirus pandemic in China.
The design made by Filip Kober and available for download at GrabCAD repository is in several variants of air flow. It should be 3D printed using photopolymer technology on SLA, DLP or LCD 3D printers. Remember that materials used and production methods must meet certain safety requirements. In above link you can read a case study byBritish Photocentric which mass produced the valves due to shortages caused by COVID-19 pandemic spread.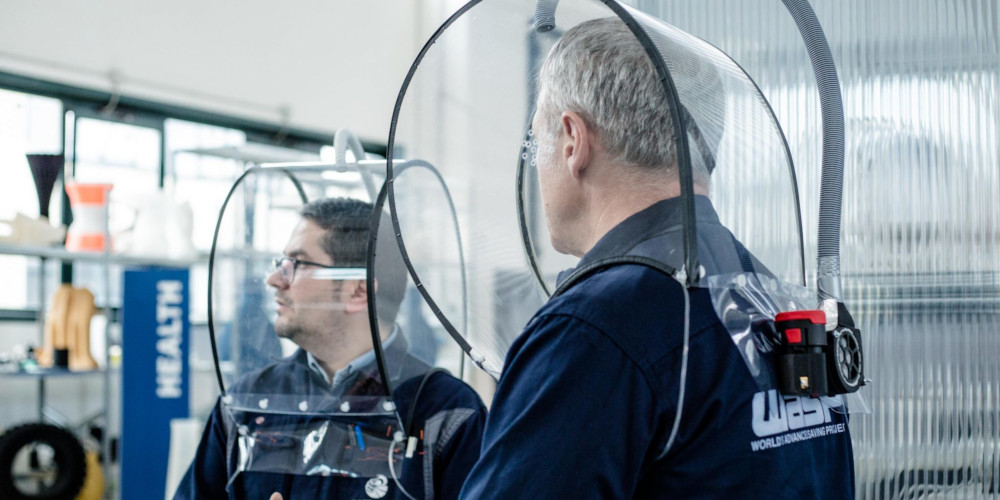 Design by Italian manufacturer of large volume delta 3D Printers – WASP. This transparent "helmets" give the possibility of breathing air without viruses and without limiting visibility. The air inside the helmet is filtered and forced in by a battery-powered fan. The cover protects not only the mouth and nose, but also the eyes and ears. It also does not limit the sound – small holes at ear height do not limit audibility.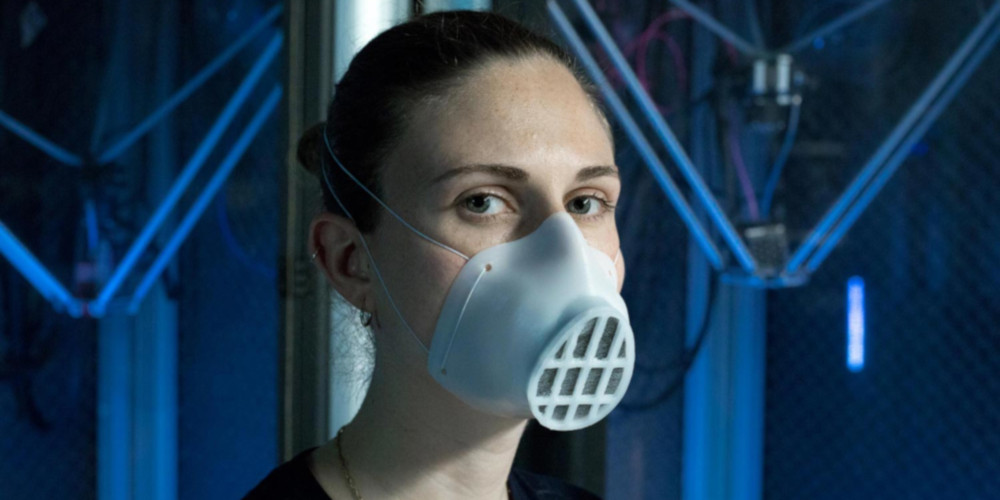 Another Wasps' solution is to create a mask ideally suited to the shape of the user's face, which will protect against contact with the virus. The virtual model is created by photogrammetry – based on the collected data, you can model the mask (a simple scan can be done even with a mobile phone). WASP 3D prints its masks from PCL, a biomaterial that can successfully stay in contact with the skin.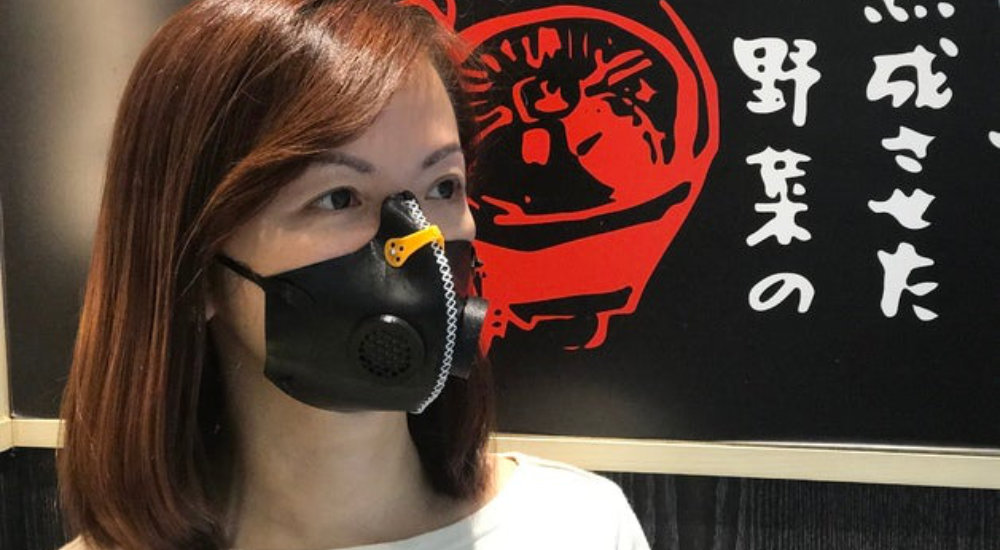 The opposite of the above-mentioned masks are designs of an engineer from Hong Kong who designed and shared several models of flexible masks on Thingiverse. They are diverse in terms of size, functionality and types of filters that can be installed in them. The obvious downside is the need for 3D printing from flexible filaments, which many 3D printers simply can't handle by default… It is possible the best and most useful designs concerning COVID-19 virus.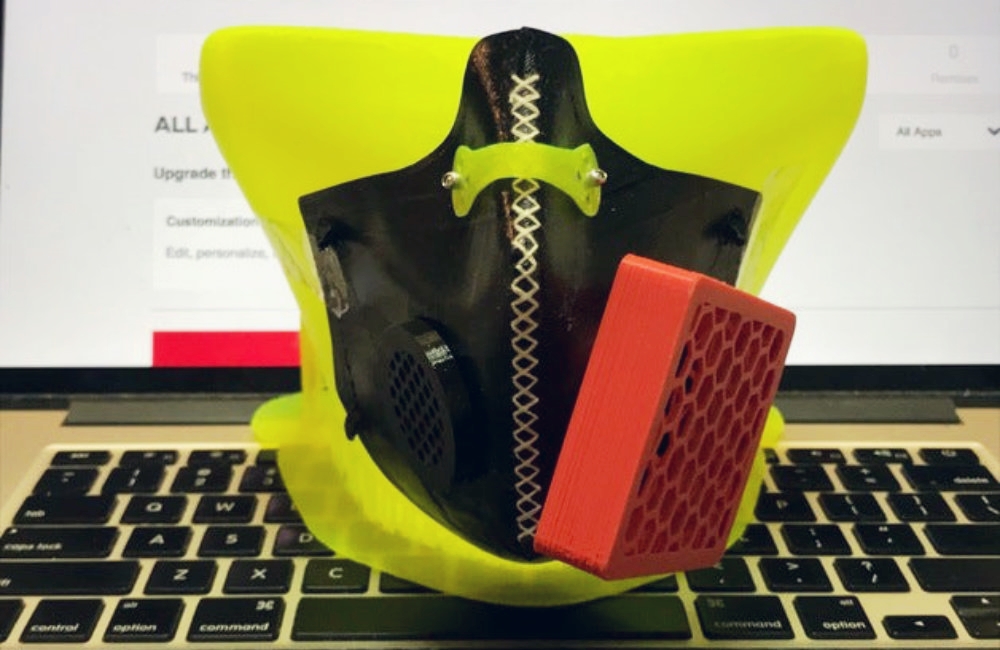 You can print and install a module equipped with a HEPA filter to the above masks. Although not very aesthetic, it will provide additional respiratory protection.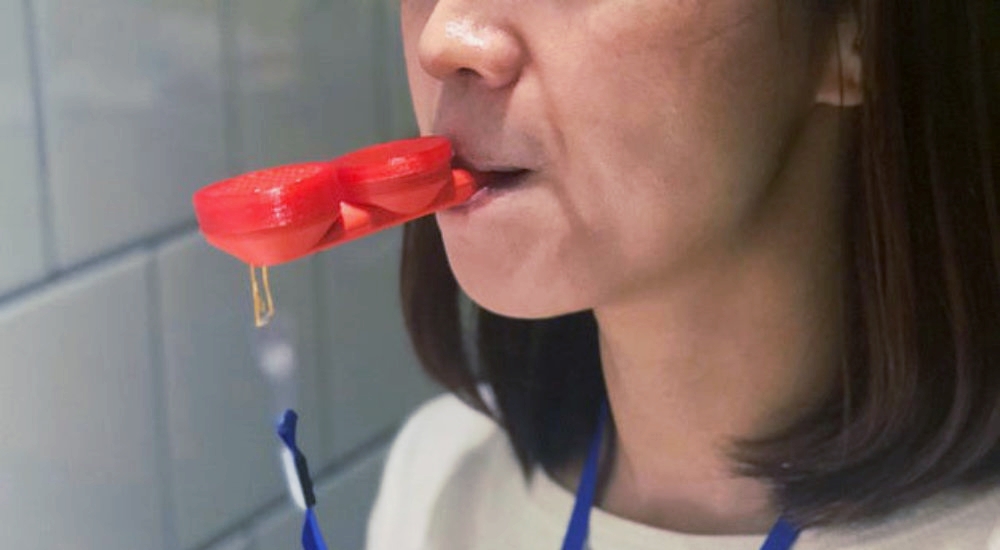 Another design by iczfirz in the form of a handheld respirator equipped with filters. The kit comes with a small case to print.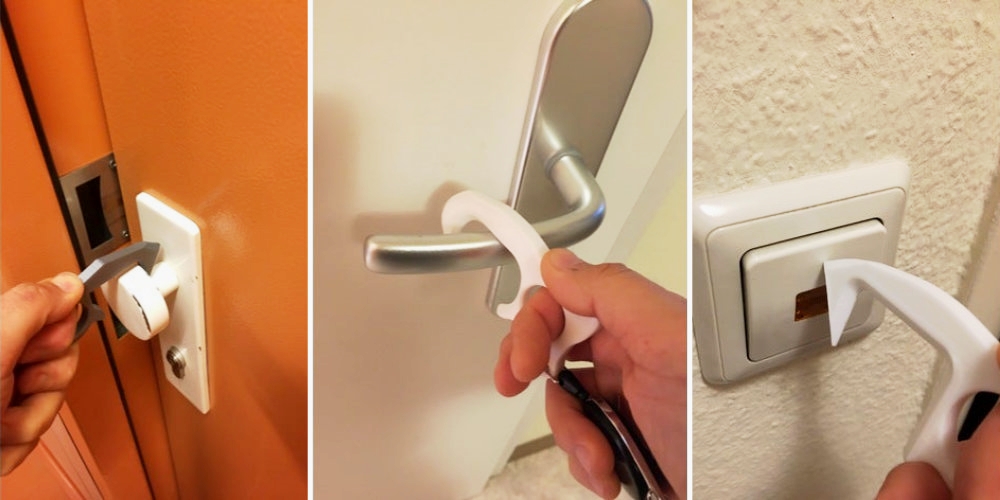 In addition to protecting our respiratory tract, it is important to wash hands often – not necessarily with a disinfectant, soapy water is enough. Unfortunately, during the day – at work and in stores, we are exposed to the touch of things that are necessary in normal operation, such as door handles, while not being able to wash our hands quickly. The handle above can be a very simple solution that allows you to open and close the door in an easy and contactless way, e.g. to turn on the light.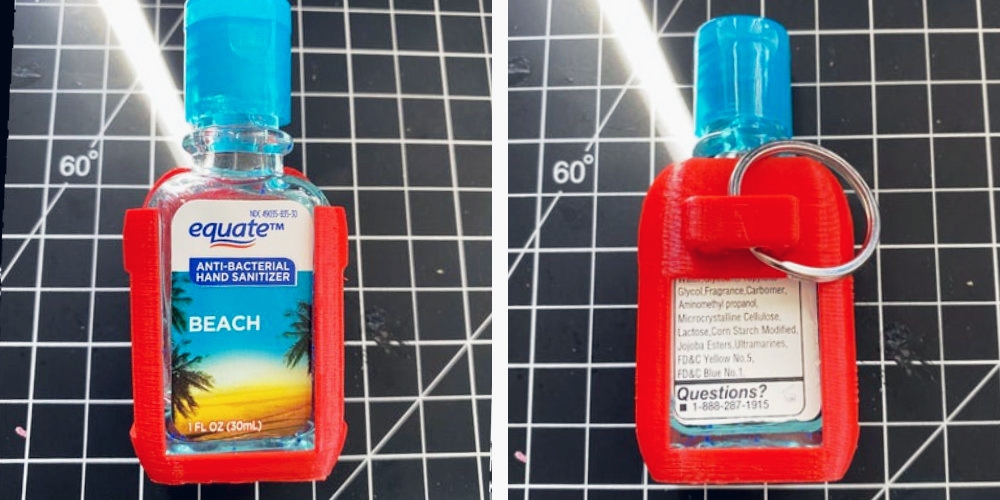 However, if someone decided that openers, tips and buttons are still not enough to fully protect themselves against the risk of contact with the COVID-19 virus, there is still a disinfectant liquid (purchased of course many days ago). In order not to lose this precious agent, you can print the above case.