A week ago, at the very beginning of the COVID-19 pandemic in Europe, Materialise – world's leading company providing 3D printing services and developing specialized 3D software, prepared an original and easy-to-print door handle that can be opened using the forearm instead of the hand. This reduces the contact of the hand with the handle, which can be potentially contaminated, and minimizes the risk of coronavirus spreading.
Many more companies began to design their own solutions and applications, both in the area of preventing the spread of the disease and supporting medical staff. One of them is the Polish manufacturer of 3D printing materials – Spectrum Filaments, who has prepared an original version of the door handle.
In contrast to the Materialise design, the Spectrum version has a larger and more rounded arm contact surface with the handle. The model has been adapted to cylindrical handles. The assembly requires four screws with a nut – there is no need to interfere with the construction of the door or handle. It can be easily install at home or the workplace. The element itself is simple to print and does not require specialized technical knowledge.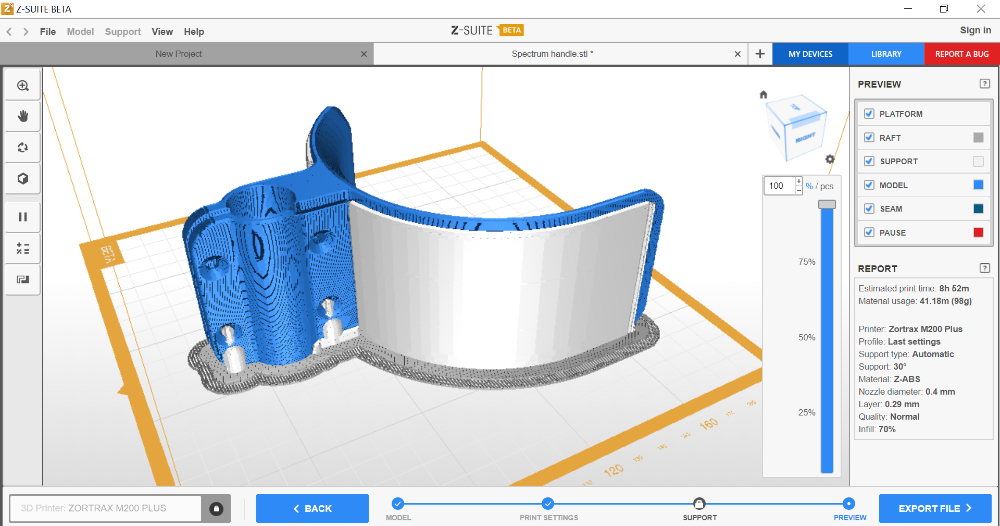 Recomended 3D printing parameters:
filament: ASA (if the handle will be exposed to UV light or weather conditions) or ABS or ABS Medical (if the handle will be used in healthcare or laboratory enviroment)
infill: 70%
layer height: 0,29 mm
support structures: required.
The average 3D prinitng time of an element is about eight hours. About 100 grams of material is required to make it.