Over here in mecca of New York City, where the rent is sky-high and the square feet are limited, it's quite difficult to find an adequate space at an affordable price. But sometime, it's not the size that matters, rather how you utilize it. One locally based 3D printing startup, called 3D Brooklyn, is proving this by doing it all from the comfort of their very own loft-based studio. The team, which was founded by Nate Kolbeck and Daniel Figur, and Will Haude, provides a number of services within the 3D Brooklyn studio, including 3D printing services, 3D design work, custom product design, and various live events, while also selling their own 3D printed products.
My first impression as I made my way into the studio earlier this month was one of cleanliness and professional demeanor, their 3D printed products arranged neatly on a table while their petite farm of MakerBot Replicator 2 3D printers were sounding off in the background. What was even a more enjoyable sight, for me at least, was the 3D Brooklyn team giving a studio tour to visitors that had likely never seen a 3D printer in action before.
Whether you have an idea in your head or already prepared as a 3D model, 3D Brooklyn will help bring that to life through their 3D printing services. The Brooklyn-based startup can print a range of one to 10,000 products and prototypes for their customers, offering to take them every step of the way, from the start of the design to the final product on the print bed. 3D Brooklyn is also very keen on being green. One of their most innovative products that the team has created on their own accord is the PPPE filament they've produced from recycled potato chip bags.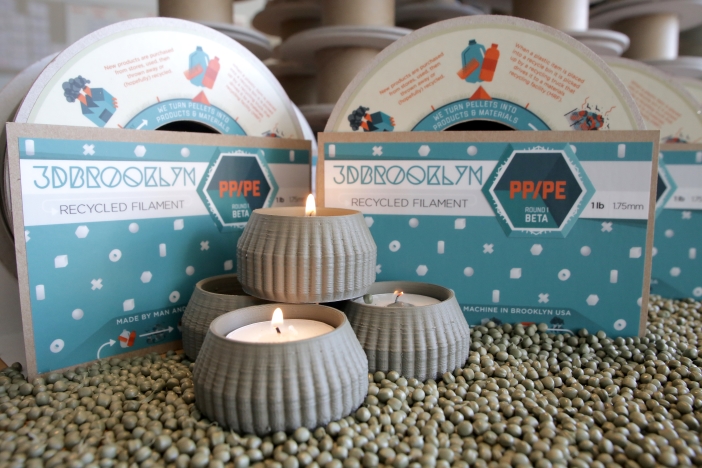 The founding 3D Brooklyn team is made up of a sound mixture of various experience. Kolbeck and Figur have amassed years of experience in marketing and PR, working together with over twenty Fortune 500 companies while creating over 400 films, commercials, and web videos over the past ten years or so. The third founder, Will Haude, has a design degree from the NYC-based Fashion Institute of Technology, and acts as the company's product designer and 3D printing expert.
So, with the marketing and 3D printing expertise on lock, 3D Brooklyn has been focused on immersing the local Brooklyn community and beyond into the world 3D printing technology. Extremely interested in the way 3D Brooklyn was formulated, and is currently operating, I talked to one of the founders, Nate Kolbeck, about their lofty 3D printing studio.

Tyler Koslow: Can you talk a bit about the 3D printing hardware that is used in the 3D Brooklyn studio?
Nate Kolbeck: Currently, we focus almost entirely on affordable FDM technology, and use a suite of different software applications for the design work, primarily Cubify Design, SolidWorks and Rhino. However over the past two years we have had over 30 different types of 3D printers in our studio from industrial level CJP and MJP machines, to smaller DLP-style resin printers and almost every FDM kit printer ever produced. We learned so much from using all the different technologies, but the most important lesson is that our clients look for affordability and speed above all, so that's why we use FDM technology.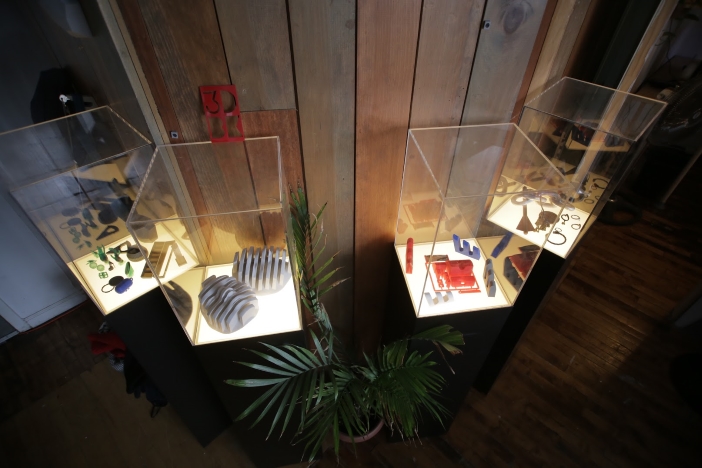 Koslow: How about your design services? Can you walk us through the process that a customer would undertake with this?
Kolbeck: We like to say we can take your idea from your head to your hand in a day. It doesn't matter if your idea is sketched on the back of a napkin or floating around in your head, we can help. Most of our clients come in for a consultation with one of our designers, after which we go through multiple rounds of revisions to make sure our they are happy with the design. Once they approve the design, we print a prototype then move onto production of anywhere from 1 to 5000 units.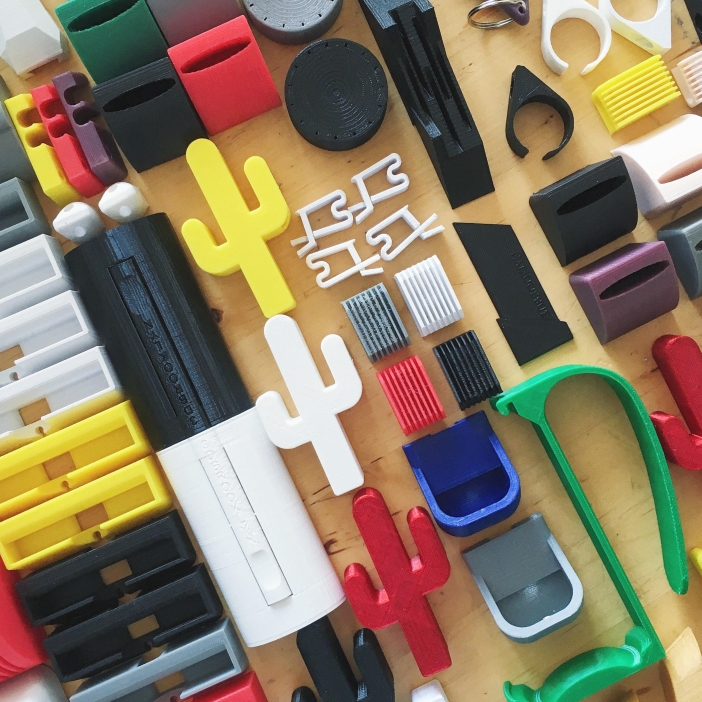 Koslow: I really enjoyed how you guys had the entire facility open for the public to see, why do you think it's so important for people to see 3D printing first-hand?
Kolbeck: It's important for people to see 3D printing in person because there are still so many questions about the technology. In a very real sense, people have been disconnected from the tools of manufacturing for a few hundred years, and now that we have access again, we need to be reminded about the sheer satisfaction that comes from the act of making. We make it our job to remind people of this amazing experience one at a time, and seeing the technology in-person really helps us with that.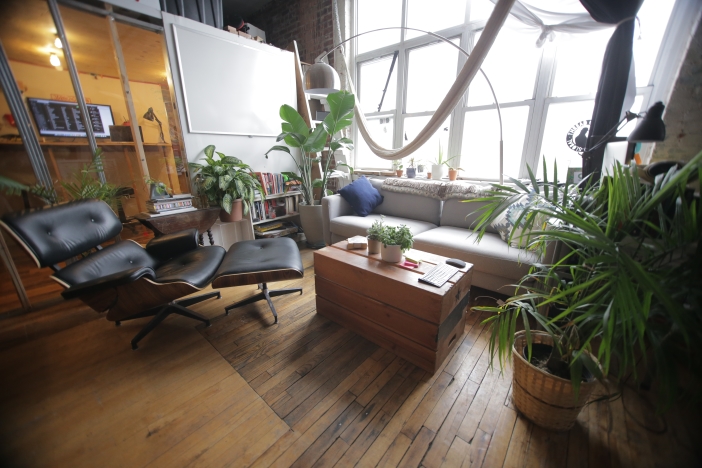 Koslow: Can you talk about the Recycled Potato Chip Bag filament? Where did that idea come from? What are the features of the filament?
Kolbeck: Our PPPE filament is a product of our desire to make decisions that we believe are relevant in the long term. We believe that green materials will play a huge part of the future of American manufacturing, so we constantly experiment with ways to be more sustainable. PPPE is traditionally an extremely hard thing to recycle because it's a copolymer which makes it hard for recycling facilities to identify and less attractive to manufacturers to purchase. The filament is semi-soft and tends to warp a lot when we use it, so you definitely need a heated build plate and a lot of patience to get it working right.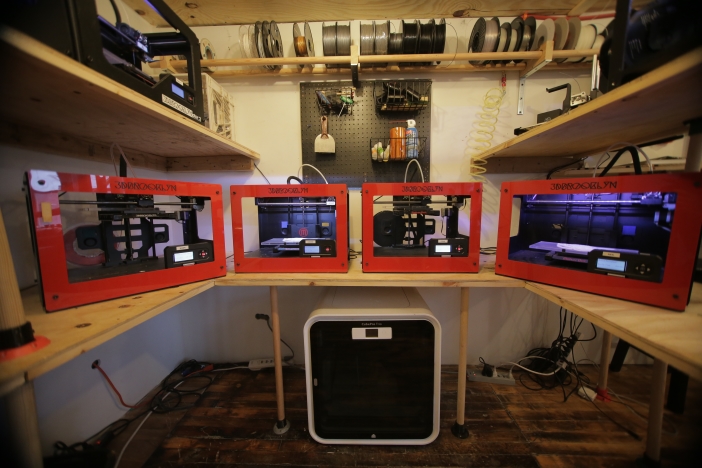 Koslow: What do you think of the desktop 3D printing market as a whole? Where do you see it heading in the near future?
Kolbeck: The desktop 3D printing market is the future of American manufacturing. And the reason is simple – it's affordable. Which means more and more people can afford to manufacture their own products, and more and more small businesses can afford.