Creality – currently one of the most popular Chinese 3D printer manufacturers in the world, presented the latest device in its extensive product portfolio, in the form of Ender-6. The 3D printer has a structure based on core-XY kinematics and a number of efficient components, thanks to which it is to be three times faster than other devices of the manufacturer, while maintaining the appropriate quality of prints. At the same time, it has a large working area of ​​25 x 25 x 40 cm.
Creality claims that after conducting numerous performance tests, Ender-6 can achieve 3D printing speed of 150 mm/s, which is three times faster than other 3D printers from the Ender series. The filament is supplied by a Bowden type extruder – thanks to which the weight of the printing module is so light that it does not fall into vibrations during accelerated movement of the head. Based on data from the company's R&D department – Creality Research Institute, Ender-6 maintains a precision of ± 0.1 mm, even at maximum working speed.
Ender-6 is equipped with proprietary Creality electronics, having, among others TMC motion controller imported from Germany, which according to the manufacturer guarantees precise control of the head movement while maintaining low volume of work. The device has the function of automatically saving the position of the print head, which allows it to be restored in the event of a power outage. The Ender-6 is also equipped with a filament sensor.
The 3D printer is available in two versions: an open and closed working chamber – in the second case the side covers are acrylic plates. The 4.3-inch HD touch screen is used for communication. The new interface provides users with simple and intuitive navigation available in many languages.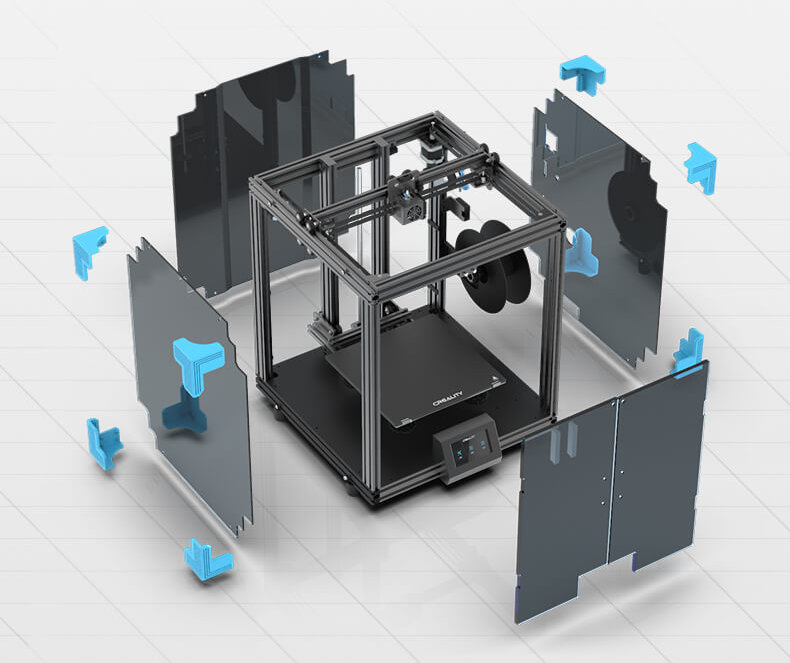 Technical Specifications:
technology: FDM / FFF
working area: 25 x 25 x 40 cm
device size: 49.5 x 49.5 x 65 cm
head diameter: 0.4 mm
filament diameter: 1.75 mm
possibility of 3D printing on layers: 0.1 – 0.4 mm
communication: SD card
software: open-source (CURA, Repetier-Host).
Source: www.creality.com