Chinese manufacturer of 3D printers, Anycubic, has announced the premiere of four new devices on the occasion of its fifth anniversary. New 3D printers printing from light-curing resins and using LCD screens at work are part of the flagship Photon series.
The premiere of new 3D printers is accompanied by a promotion that covers the entire range of the online store. You can buy both new machines and older products from the Chinese manufacturer at a promotional price. As Anycubic says, this opportunity is a kind of thank you to customers for five years of constant support.
The Mono, The Mono SE, The Mono X
The group of newly introduced products includes three variants of the Photon Mono 3D 3D printer. The first, Mono, is a budget system that includes a 2K monochrome LCD screen. The device is characterized by high speed of 3D printing and high resolution of 10-15 microns. The size of the working area of ​​this machine is 30 x 80 x 165 mm. The new version of the device is also twice as fast as its predecessors, with a minimum curing time of 1.5 seconds.
In turn, the Mono SE is even faster and more friendly to work, for example in the office, thanks to a special carbon air filter and two fans. The device was designed to reduce the smell of resin during printing. This 3D printer boasts an even shorter curing time than Mono, which is only one second. This means that within an hour we can print an object 80 mm high.
The last of the new models of the Mono series is the Mono X. It has a much larger working chamber than the above-mentioned models, and is equipped with a 4K LCD screen with a diagonal of 8.9 inches. The maximum printing speed on this device is 60mm / hour, which makes it even more efficient.
Photon X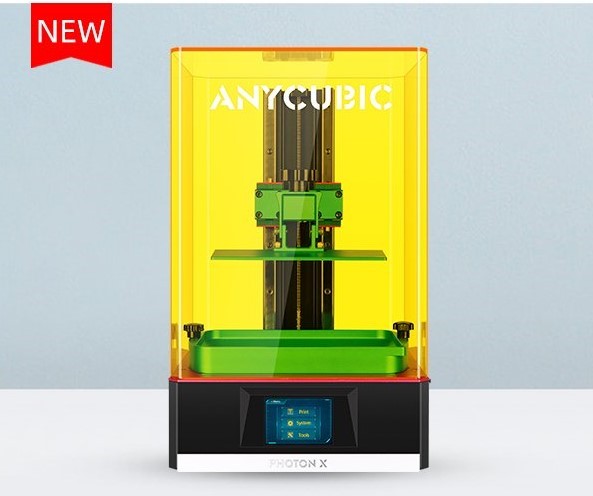 The latest premiere from Anycubic is the Photon X, with an equally large working chamber as the previously mentioned Mono X. Both models have the same dimensions and 4K LCD screens, but the Photon X is not monochrome. In addition, the machine is equipped with a special anti-aliasing system that allows you to smooth the edges of polygons, ensuring a perfect surface finish.
Photon X is also equipped with a Wi-Fi module, making it possible to remotely print and change print parameters. What's more, the 3D printer has a new cooling system that will extend its life. Thanks to this, Photon X will serve its users even longer.