Every user of a 3D printer, as long as it is not just for work, sometimes likes to print something quickly, without wasting time on designing. Sometimes it is some kind of "handover" to the house, which we want to prove to my wife that this 3D printer is useful for something and is not just another expensive toy of my husband, and sometimes just an unnecessary gadget that we want to show off to our friends in work. Another thing is that probably about 90% of the items we want to draw and print are probably already available on the Internet.
The original version of the "TOP 10 websites with free 3D models" was published in 2016 and – let's face it – a lot has changed since then. Due to this fact, we decided to update the article. Which of the free repositories still offer high-quality models? Have there been new, better websites with 3D models?
Below I present a list of ten websites with ready-made projects in STL format. Some of them offer all models for free, and some of them make a living mainly from selling files, but also contain a large database of projects for which you do not have to pay.
The order of describing websites is random.
Thingiverse is still one of the largest, and certainly the most popular website with free STL models, which includes countless numbers of ready-to-print models. When looking for models, remember that their large number translates into quality, so when looking for a model you have to take into account that not all of them are "printed". You can find here a whole lot of useless and unprintable files, but still, in this whole mass, there are real gems. The portal belongs to MakerBot.
One of the most popular websites offering the best quality 3D models. This is because the site offers designs created primarily by professionals, and all files placed are quality tested beforehand. At the same time, MyMiniFactory has recently turned to commercial distribution, which is why some model models are paid. This, however, guarantees the quality and "printability" of the models.
It is a dedicated search engine for projects suitable for 3D printing, which is still very popular. When looking for 3D models, we choose from 2,269,030 available options – after clicking on the photo of the 3D model we are transferred to the page where the model was placed. Some of them are free, some are paid.
A treat for DIY enthusiasts. Instructables is a portal where users share their DIY projects. Many of them are based on 3D printing. All descriptions contain detailed step-by-step instructions describing what to do and in what order.
PrusaPrinters.org is owned by the most popular Czech manufacturer of 3D printers – Prusa Research. The website has a lot of models – the file repository is so large because of the function that PrusaPrinters gives users, i.e. importing models from Thingiverse. Importantly, the models available on the platform are free.
A French website and store where creators can share or sell their projects. The STL models posted there are of very high quality. Built-in filtering helps us find free files. On the website you will find both free and paid models – the prices for many models, however, are low and oscillate around a few euros.
Zortrax, like Prusa Research, has its own repository of 3D models. Previously, models were available only to owners of 3D printers – now they have been made available to a wider group of users. By downloading the tag from the Zortrax Library, we can be sure that it has been optimized for proper 3D printing. The database includes both technical models (handles, hinges and mounting elements) as well as recreational models from games or movies.

The platform of the Taiwanese manufacturer XYZ printing mainly contains simple models for 3D printing. The advantage is that the models are free – to download them you need to log into your XYZ account. Also suitable for multi-color 3D printing.
An absolutely great website with models to be assembled. Most of them are paid, but the quality of the models and optimization for 3D printing make it worth spending a few dollars in our opinion. Ps. At Fab365 you will find a free R2-D2 model for printing and assembly – we recommend it!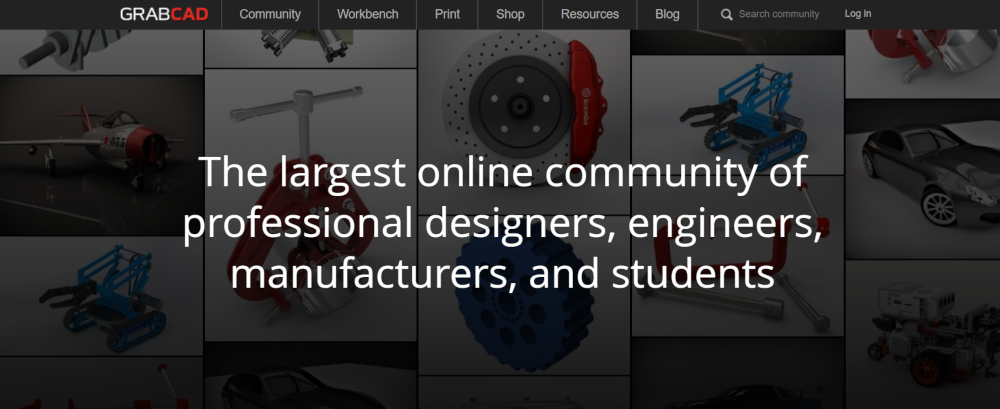 A technical database of models created for engineers, students and technology enthusiasts. Useful when looking for complicated technical parts. 3D models free after joining the GrabCAD community.
Additionally…
…it's worth looking for models where we don't even expect them. Models in .stl format are available, among others NASA or museums!