At the end of last year, we described the (mis)adventures of Aleph Objects – the owner of the popular American 3D printer brand LulzBot, who was struggling with serious financial problems that ultimately led it to the brink of bankruptcy. The result of these struggles was the acquisition of Aleph Objects by FAME 3D (Fargo Additive Manufacturing Equipment 3D) and the transfer of the headquarters from Loveland, Colorado, to Fargo, North Dakota. Since then, complete silence prevailed around LulzBot – no new activities appeared on the website, and the product range remained the same. This does not mean, however, that the story is over – we are just entering its new installment…
This week, SynDaver – a manufacturer of synthetic anatomical models of humans and animals for medical education and conducting surgical simulations, announced the launch of its own 3D printer – Axi, which is at the first glance no different from the popular LulzBot model – TAZ Pro. That is however far from truth – The Axi started with an open-source foundation but it is not the same. The toolhead, build plate, mounting schemes for components, hardware and framing, wiring and cabling, firmware, slicer and of course artwork all differ from any former Aleph products. These changes improved the robustness of the platform to a point that allowed manufacturer to increase the warranty to three years.
The same people who were released by Aleph Objects last fall joined the team that worked for the new machine. SynDaver hired a handful of former employees, Colorado, added experts from around the country and integrated them into the existing SynDaver structure.
SynDaver has been using 3D printing technology for almost a decade, so the decision to make own 3D printer was an obvious one. Now the company can not only develop 3D printers for its own needs, but also sell them, based on the still high recognition of the LulzBot brand among American consumers.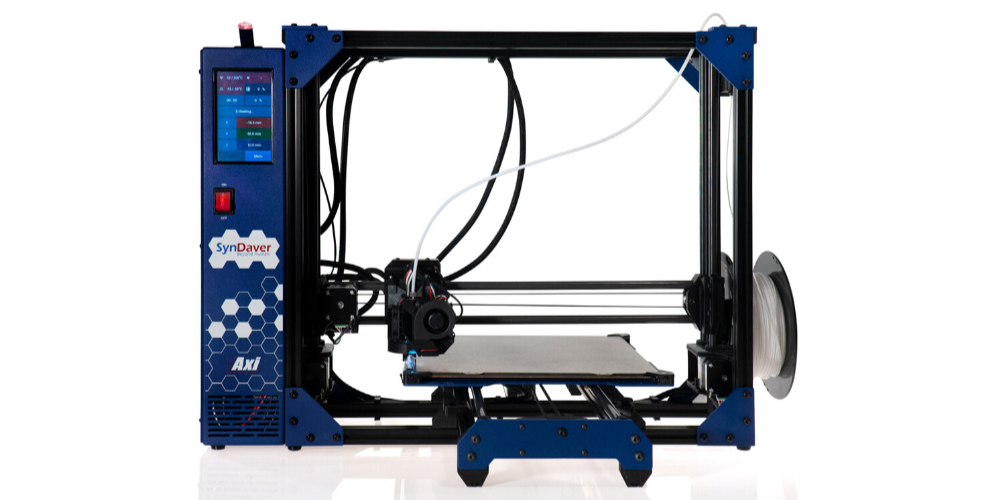 Axi is equipped with a working area of ​​28 x 28 x 28.5 cm (exactly the same as in the LulzBot TAZ Pro), a heated and removable work table and the Hemera E3D print head. Uses filament 1.75 mm in diameter. It costs 3250 USD.
Source: www.syndaver.com