The true era of consumer adoption has only just begun for 3D printing: several innovative products are enabling users to digitally capture 3D objects and reproduce them more easily than ever before. With extensive experience and a large number of exclusive patents in the world of 3D scanning, Shining 3D brings the world-class 3D technology to CES 2017. On January 5th the company is officially debuting its new Einscan Pro+ handheld 3D scanner and the Einstart C desktop 3D printer.
At CES 2016, Shining 3D will launch the EinScan-Pro 3D scanner. It features four scanning modes and is optimized for consumer and commercial applications in manufacturing, engineering, design, development, testing, artwork archival, animation and even human form acquisition. The new EinScan-Pro+ builds on the industry leading line scanning quality of the EinScan-Pro, while introducing a great number of innovations at an accessible cost.
EinScan-Pro+ continues the consistent excellent scanning quality of EinScan-Pro. It provides multiple scanning modes and realizes simple and fast scanning with convenient hand-held design. The newly introduced EinScan-Pro+ adopts brighter and more fashionable champagne gold colour. Although similar to EinScan-Pro in appearance, it's full of innovations:
An advanced brand new R² (Rapid Registration) scanning module is added in the hand-held rapid scanning mode (Handheld Rapid Scan).
Hand-held high definition scanning mode (Handheld HD Scan) adopts a new international proprietary technology.
The range of single frame scanning is enlarged by 1.6 times, comprehensively improving the scanning speed in the hand-held mode.
Glossy and Shiny Appearance in Champaign Gold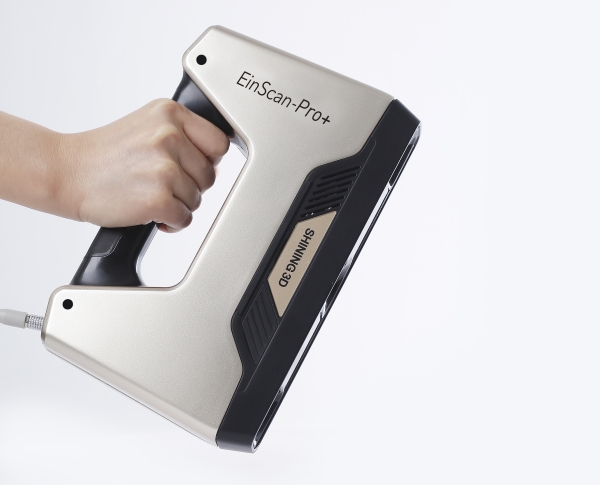 Closely following the trend of fashion, the appearance of new EinScan-Pro+ is exquisitely finished in campaign gold, presenting delicate and profound metallic texture. Size of appearance (248*156*48); weight: 0.8 kg.
Brand New R² (Rapid Registration) Scanning Module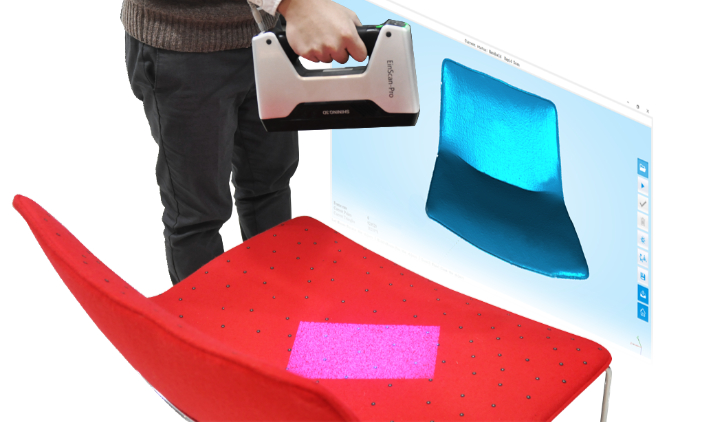 R² (Rapid Registration) scanning module is a newly-added module in the hand-held rapid scanning mode of EinScan-Pro. A feature of recognizing and joining of marking points is added. Since it's targeted at large-size objects with few geometrical characteristics, 3D scanning can be realized even for flat objects without any geometrical characteristics. And color information on the surfaces of objects can be obtained. It delivers rapid and smooth operating experiences while ensuring scanning accuracy.
This module is the standard equipment of EinScan-Pro+. And it supports paid activation in the software EinScan-Pro. This module is an added paid module and needs to be activated after purchasing license.
New-generation Hand-held HD Scanning Mode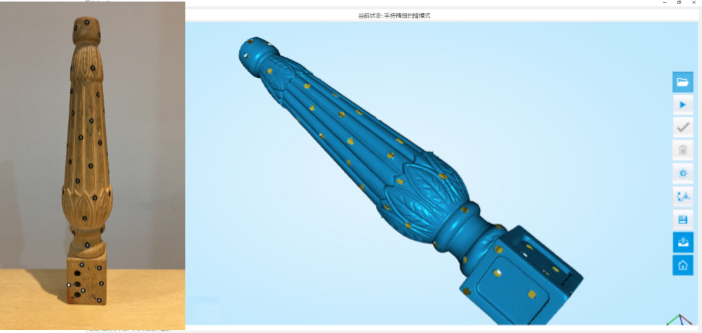 In the past, 3D scanning details and scanning speed cannot be satisfied simultaneously. Now EinScan-Pro+, which is equipped with a brand new generation of hand-held rapid HD scanning technology with international patent, recreates the hand-held HD scanning mode with intensive line scanning strategy. 7 collection lines have been increased to 100 collection lines. The scanning speed under the hand-held HD mode has been increased to 550,000 dots/second. The data acquisition speed per second has been increased by 7.6 times, realizing perfect combination of scanning speed and acquisition details.
Scanning Range is Enlarged by 1.6 Times
EinscanPro+ recalibrates the scanning range by using the new 300*170 mm single-side scanning range. The area of single frame scanning is enlarged by 1.6 times. The hand-held scanning speed for large-size objects has been considerably increased. Scanning large-size objects using EinScan-Pro+ will be more efficient.
Equipped with the Most Updated EinScan 2.0 Software
The biggest highlights of EinScan version 2.0 include improved user experience, enhanced software interface user-friendliness, support for one-click data upload via connection to the Sketchfab platform, and ease of the user to directly share scanned 3D data over the Internet. Meanwhile, EinScan 2.0 version also released multiple upgraded new functions synchronously.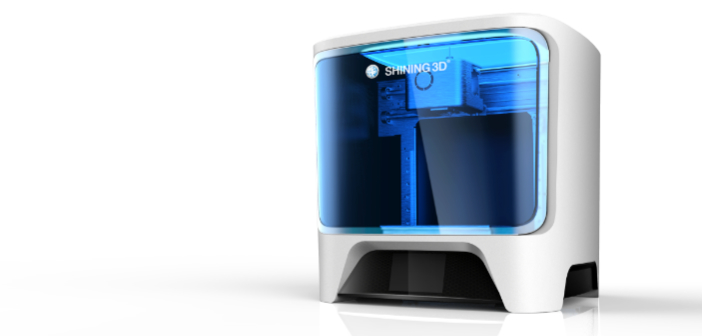 The Einstart-C is a stylish and compact 3D printer, based on fused filament fabrication (FFF/FDM) technology. It is equipped with a single nozzle extruder and can print objects as large as 6″ x 6″ x 6″ using PLA plastic, an eco-friendly material. Ideal for homes and schools, this truly plug & play system is fully enclosed to prevent injuries or burns while in operation; a sensor – which can be deactivated if necessary – checks that the door is closed before starting or resuming the 3D printing process. The new system also introduces a new auto calibration function with three built-in sensors inside the printing bed. By detecting the height of the sensors, the printer can fully automate the lengthy calibration process, even compensating for any difference in height during the print.
The Einscan-C features three printing modes:
As a standalone printer, it enables printing without any connectivity through its USB thumb drive.
Connected to a computer, with the enclosed USB cable.
Wireless printing, through a standard Wi-Fi connection.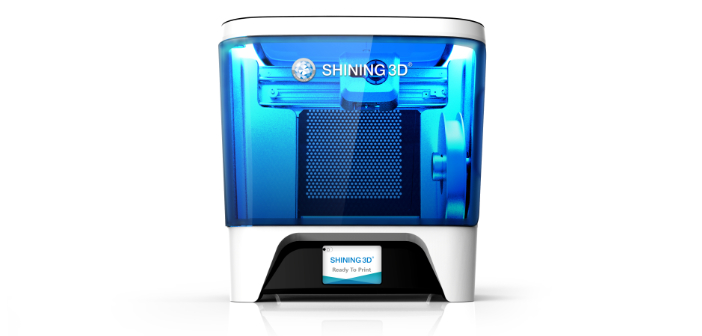 Users can freely access Shining3D's rich online data library at 3DKer.com, select a 3D model and 3D print it on their Einstart-C with just a few clicks. With 4GB of local flash storage, the system will automatically save the print file before printing.