ROSA3D – the Polish manufacturer of filaments for 3D printers, is launching a new product created for designer applications. PETG CarbonLook is based on PETG Standard compound doped with a small amount of carbon fibers. 3D prints made of this material are characterized by an interesting visual effect, enabling designers to create details with a satin texture of vertical surfaces, similar in appearance to much more expensive materials used for functional parts.
The material is also more flexible than technical PETG + CF, easier to 3D print and has a reduced friction coefficient (lower abrasion), which results in slower wear of the nozzle. The use of PETG Standard as the filament base results in low threading and excellent adhesion between the layers. The material shows no shrinkage and does not require a closed chamber in the 3D printer.
3D printer settings suggested by the manufacturer:
3D printing temperature: 220-260°C
bed temperature: 60-80°C
3D printing speed: 30-120 mm/s
nozzle size: >0.4mm*
*Due to the low carbon content in the material, the abrasion rate of the nozzle is very low.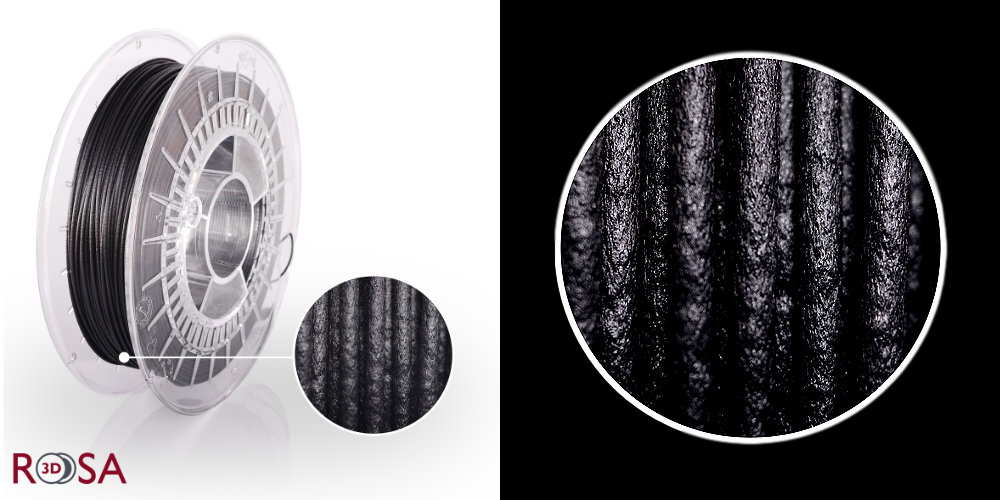 PETG CarbonLook is available in a diameter of 1.75 mm and is offered on 0.5 kg spools for ~EUR 15.50. It is available for sale since March 23rd this year from the manufacturer's online store and official distributors. More information about the filament can be found on the manufacturer's website www.rosa3d.pl.