MakerBot is not slowing down and is constantly expanding the ecosystem of solutions based on their latest 3D printers – MakerBot Method and Method X. Recently, the company has been focusing particularly on expanding the portfolio of consumables, giving users greater opportunities in the field of additive production. Recently, the offer of their materials has been expanded to include such filaments as ABS, ASA Nylon, PETG, Tough, PLA, SR-30 and PVA, dedicated to the needs of engineers.
However, some of the materials they propose require devices with special parameters, which is why MakerBot decided to introduce its latest devices in the METHOD Carbon Fiber Editions version, dedicated to the production of materials doped with carbon fiber and other engineering materials. At the same time, he presented Nylon Carbon Fiber MakerBot compatible with devices, creating an ecosystem dedicated to the production of durable and functional elements, tools or instruments, as well as spare parts.
Both METHOD and METHOD X Carbon Fiber Editions have been optimized for 3D printing from advanced composite materials, the production of which on other desktop devices would be inefficient and problematic, including due to abrasion of the print head. Importantly, the owners of the basic version of the device can upgrade to the latest version by installing a new type of extruder, equipped with parts with increased resistance to abrasion. METHOD 3D printers are equipped with a heated working chamber, which ensures stable temperature and high quality of the manufacturing process.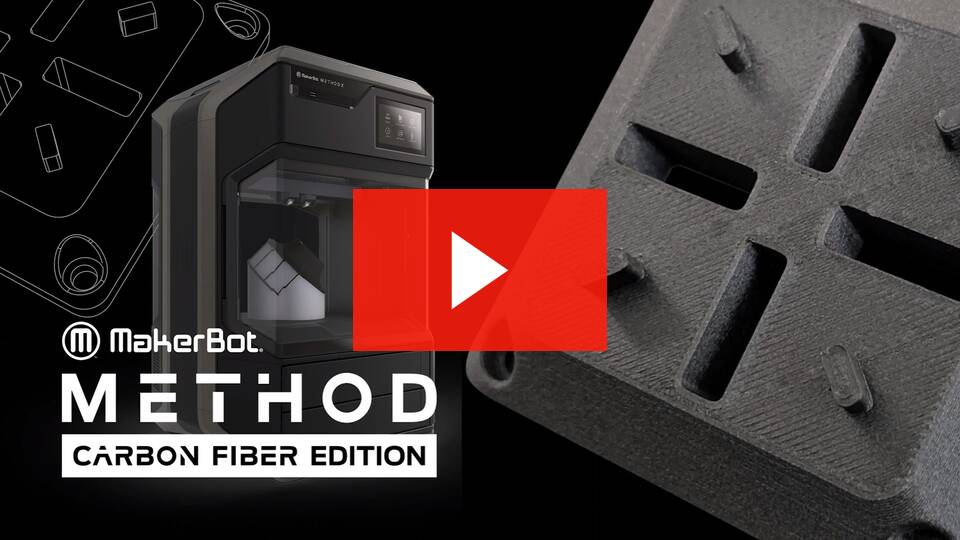 The elements made of carbon fiber reinforced material are distinguished by improved mechanical properties, rigidity and resistance to high temperatures, making them suitable for structural applications. According to the creators, the carbon fiber reinforced plastic they propose can be a replacement for metal parts, and what's more, it can help reduce costs and improve production efficiency.
This is the next step in the strategy of expanding the availability of specialized materials. Earlier, by developing their device, the producers decided to implement a new, experimental MakerBot LABS extruder, which allowed the use of materials from external suppliers. At that time, Jabil, Polymaker, Kimya and Mitsubishi Chemical joined the group of leading Makebrot material suppliers, along with the BASF and LEHVOSS Group. Perhaps soon, MakerBot Carbon Fiber Editions users will also be able to use additional materials from both MakerBot external suppliers.
The fixed price of the device is $ 4.999, however, you can now buy it at a promotional price – $ 3.499.30.
Source: www.makerbot.com