GAIA Multitool is a one of a kind multifunctional device that combines the capabilities of a 3D printer, CNC router, laser engraver, and a number of other tools, giving the user complete freedom to create exciting projects. But what makes GAIA Multitool truly special is its ability to 3D print models from clay, porcelain and many other natural materials that you can create yourself.
This wonderful device was promoted last year on Kickstarter as A Next Generation 3D Printer. We rewarded its creators – Paweł Rokita and Janusz Wójcik from FabLab Kielce – the organizer of 3D Printing Days, creators of another 3D printers like FIBER 3D; extruder "Goliat" – for The Best New Polish 3D Printer of 2014 and the 3rd place for The Best Polish 3D Printer of 2015.
A standard and MAXX version have 10 different toolheads:
a 3D printing head for ceramics (1 liter of material) and other masses prepared by the user,
a 3D printing head for ceramics and other masses prepared by the user, with a Bowden extruder (external tank with 10 liters of material),
a 3D printing head for ceramics and other masses prepared by the user, with a cartridge (300 ml) built into the head itself, as opposed to an external tank,
a 3D printing head for FDM with a 3 mm nozzle,
a 3D printing head for FDM with 1.75 mm nozzle,
a diamond stylus for etching inscriptions on metal and glass,
a knife to cut out foil/adhesive letters or other templates,
a CNC milling machine for engraving inscriptions, drawings, carvings, etc. (CNC milling device not included with device),
a head equipped with a special marker for drawing (e.g. PCB tracks),
a laser engraver.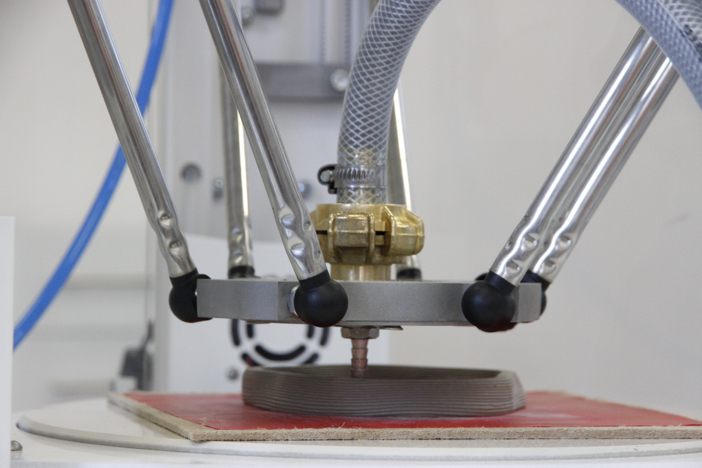 GAIA Multitool were created for people who want more than only FDM technology. It's not possible to print very precise models, bas-reliefs, medals, or solid inscriptions, and print from another materials than thermoplasts like PLA and ABS on a standard 3D printer. You can 3D print from ceramics, mill, engrave, cut and draw. All in one device.
It also uses 32-bit electronics based on Smoothieware as well as drivers dedicated for CNC milling machines. In this innovative 3D printer, as double socket joints, were used lubrication free and self-aligning iglidur spherical bearings.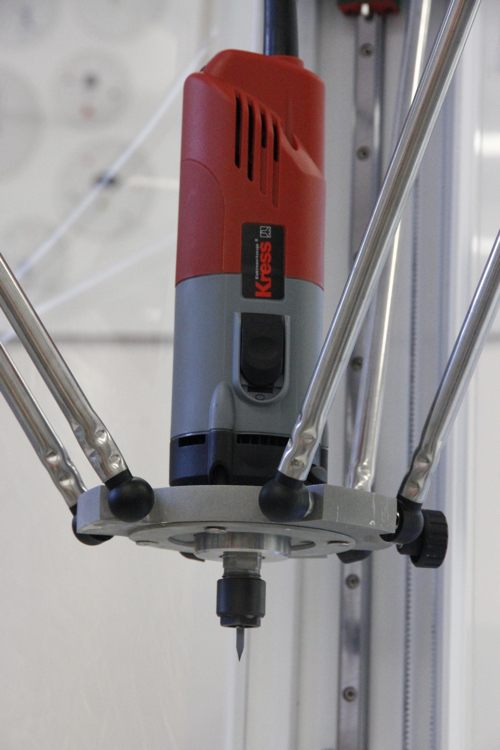 What's more, GAIA Multitool is available in 3 versions: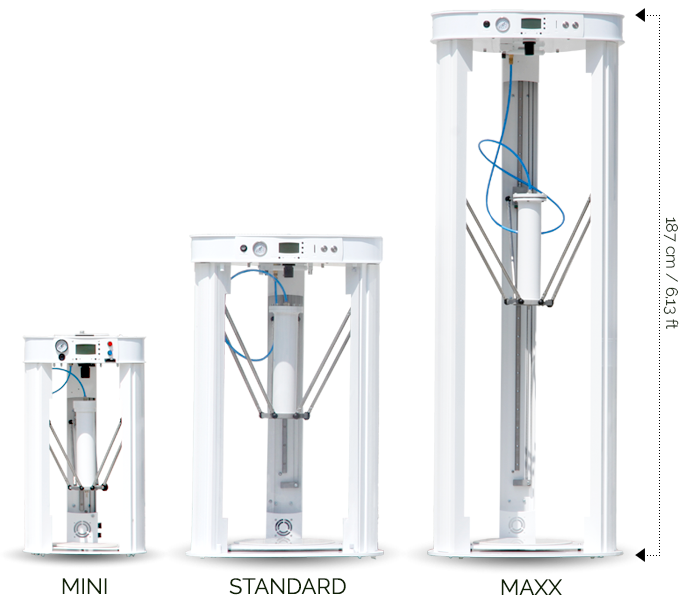 Standard – with working area of X,Y ∅ 30cm, Z 40 cm
MAXX – with working area of X,Y ∅ 45xm, Z 105 cm
MINI – with working area of X,Y ∅ 20, Z 20 cm.
Choosing of a perfect version for you depends on your needs and expectations. The Standard version is capable of utilizing all 10 of the various toolheads and has a large enough working area to satisfy the requirements of most typical projects. For larger projects, there is a larger version of the machine – MAXX is one of the biggest 3D printers on the market, with a maximum printing height of 175 cm. I know, that is sounds surprising, but it's possible to print 1 meter high models from ceramics.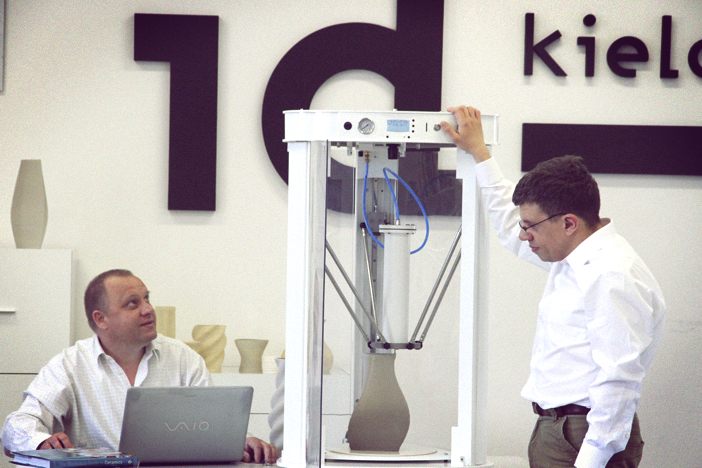 Specification:
GAIA MULTITOOL STANDARD
3D printing / working area: X,Y ∅: 300 mm, Z: 360-400 mm (depending on the equipped toolhead)
Materials: ABS, PLA, clay, porcelain, and any other masses prepared by the user that can be extruded through the nozzle (e.g. chocolate)
Other toolheads: possibility to install CNC milling machine (not included with device), diamond stylus, cutting knife, laser engraver, head with drawing marker
3D printing nozzle: 0,4 mm
3D printing filaments: 1,75 or 3 mm
Software: open-source
Firmware: Smoothieware
Communication: SD card, LAN
Autocalibration: YES
Heated bed: YES
LCD: YES
Closed working area: YES.
GAIA MULTITOOL MAXX
3D printing / working area: ∅: 450 mm, Z: 1050 mm
the same features as GAIA Multitool Standard
GAIA MULTITOOL MINI
3D printing / working area: X,Y ∅: 200 mm, Z: 200 mm
the same features as GAIA Multitool Standard
Prices:
GAIA Multitool MINI (early bird special) – 1500 $
GAIA Multitool MINI – 1990 $
GAIA Multitool MINI equipped with a 3D printing head for clay, porcelain etc., with an external cartridge of capacity of 0,5 liter of material and a cartridge (300 ml) built onto the head itself, wooden table for milling with vice, ArtCam Express software – 2490 $
GAIA Multitool MINI full version – 2990 $
GAIA Multitool Standard – 3990 $
GAIA Multitool Standard full version, but withou an additional 10 l external tank for ceramics
GAIA Multitool Standard full version – 5190 $
GAIA Multitool MAXX – 8890 $