Zortrax starts a new decade with a strong cleaning of warehouses – the newly launched Zortrax Outlet sells Inventure 3D printers and the manufacturer's original materials in a variety of unusual colors. Price cuts are in some cases stunning – for just €2,179.00 net you can buy Zortrax Inventure with DSS washer and a set of 66 cartridges with filaments (42 x Z-PLA + 23 x Z-PETG + Z-SUPPORT Premium).
In addition to the Inventure 3D printer, the promotion includes selected filaments for the remaining models of the manufacturer's equipment: M200 / M200 Plus and M300 / M300 Plus: Z-ULTRAT, Z-GLASS, Z-HIPS, Z-ASA Pro, Z-PLA Pro and selected accessories for Inventure. In extreme cases, discounts reach as much as 48%!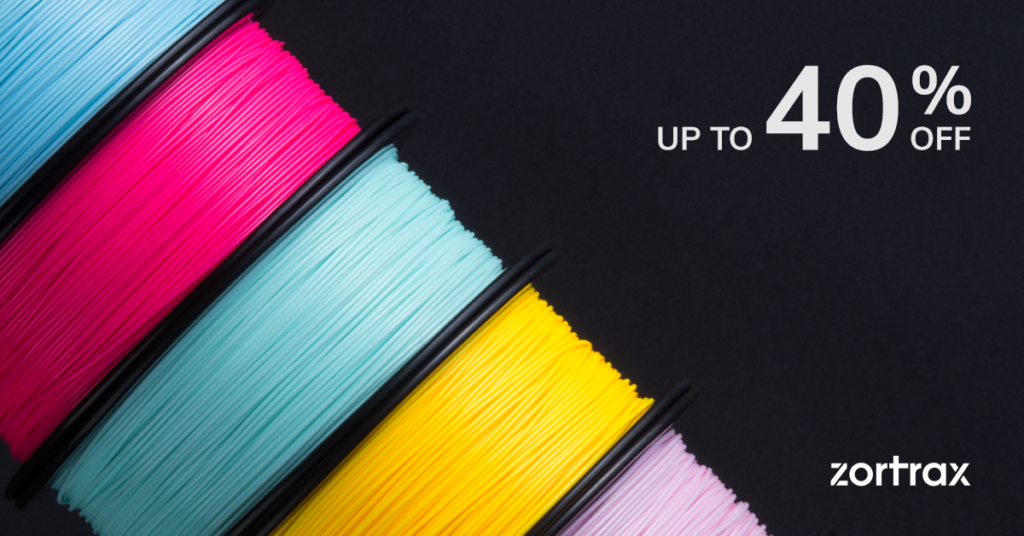 Zortrax Inventure is a fully professional 3D printer in the desktop segment. It has the smallest workspace of all the manufacturer's 3D printers, but the other functionalities fully compensate for this. These are primarily:
two printheads – one for building material and the other for water-soluble support
a filament flow sensor that pauses the 3D printer in case of any problem
closed and heated working chamber, which eliminates the problem of deformation of materials
automatic bed calibration system
optimization for long-lasting production cycles lasting 2-3 days.
In November 2019, the manufacturer introduced a number of changes to the device, further increasing its functional range. In the Z-SUITE software in the profile for Zortrax Inventure appeared the function External Materials, where you can set the parameters of the filaments. Dedicated filaments supported by the 3D printer in single and double head modes are:
Single head mode: Z-NYLON, Z-ULTRAT, Z-PETG, Z-GLASS, Z-PLA
Two-head mode: Z-PETG, Z-PLA, Z-ULTRAT Plus, Z-SUPPORT Premium.
Thus, the 3D printer gained full freedom in printing with thermoplastic materials – both original, provided by Zortrax and substitutes or special materials. This gives users full freedom to choose the best work setting for their needs. Regardless of 3D printing from filaments on spools, Zortrax Inventure can work in single-head mode. In the previous, original mode, Inventure always printed the raft from the support material, like all even the simplest supports. At this time, you can opt out and print selected details using only one head. This optimizes the time and costs of 3D prints made with a simple geometry, and at the same time opens the way to printing from materials that do not work well with water-soluble support materials, such as nylon.
More information about Zortrax Inventure 3D printers:
Source: www.zortrax.com