ZMorph VX Full Set – the multifunctional device offers the possibility of manufacturing, not only in additive technologies – in addition to 3D printing, equipment users can also learn about milling and laser engraving technologies. What materials can be used with the ZMorph VX Full Set?
ZMorph has prepared a material library, i.e. an extensive catalog of materials that can be used to 3D print, mill or engrave with their device. The full range of over fifty consumables allows many potential applications. In this article, we will present the available materials and describe the most popular of them.
MATERIALS FOR 3D PRINTING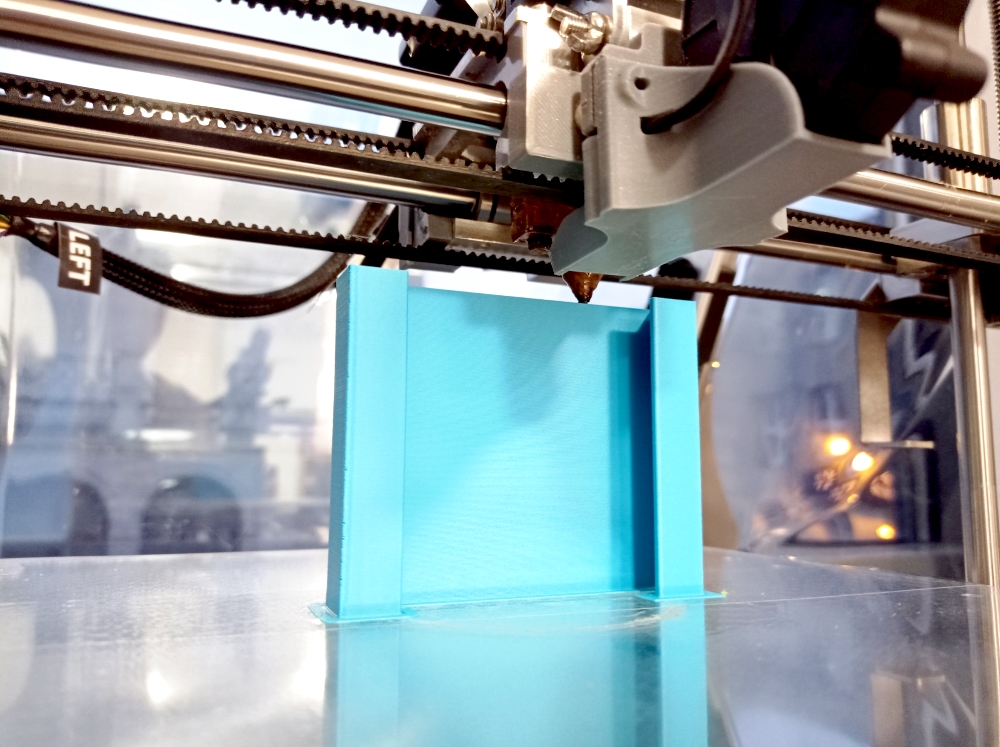 According to the information provided by the manufacturer, using the ZMorph VX printer, you can 3D print from the following materials:
PLA – the most popular material for 3D printing. The most popular applications of this material in 3D printing include the production of demonstration models and prototypes, domestic utility and decorative elements. It is also great for educational purposes.
ABS – a material for the production of functional elements, more resistant than 3D prints made of PLA. You can find information about 3D printing with ABS in our article.
PET-G – Material relatively simple in 3D printing, waterproof and resistant to the damaging effects of sunlight. You can find information about 3D printing with PET-G in our article.
Nylon – a plastic material with good abrasion resistance, ideal material for functional applications and the production of mechanical parts.
HIPS – material that acts as a support material.
ASA – has similar properties to ABS, however, it is much more resistant to weather conditions, without the need for painting or surface treatment. Moisture or UV radiation does not affect the appearance or durability of prints. You can find information about 3D printing with ASA in our article.
PMMA – transparent plastic, highly resistant to stretching, UV light and impact.
TPE – flexible filament for 3D printing, used in applications requiring increased flexibility or reduced stiffness.
PC – lightweight thermoplastic material, distinguished by exceptional durability and high temperature resistance.
PC-ABS – a composite of ABS and polycarbonate, which will be used in the production of highly durable and flexible prints.
PP – flexible thermoplastic material, distinguished by its chemical resistance. More detailed information about 3D printing from polypropylene can be found in our article.
PVA – filament dedicated to printing support structures that completely dissolve in water. The material can be 3D printed with PLA and Nylon successfully using the Dual head. You can read more about the ZMorph VX Full Set heads in this article.
MATERIALS FOR CNC MILLING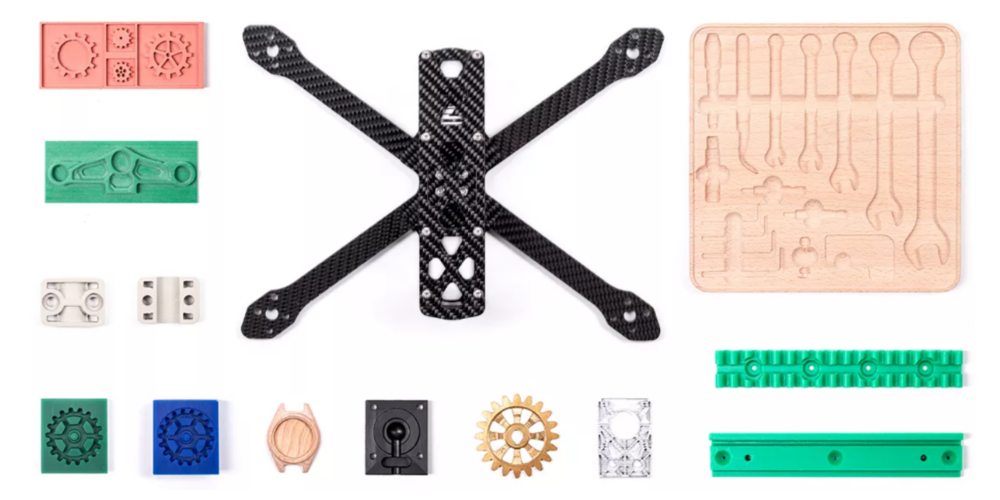 The CNC PRO toolhead allows milling from materials of low hardness. ZMorph offers a wide range of materials that can be milled, from groups such as:
plastics – when milling plastics, remember to adjust the processing speed. High friction can melt the workpiece and clog the knife. To avoid this, reduce the thickness of the layer to be milled and increase the speed. Time should be the same, then the risk of melting will be minimal or no. Single-edge cutters are also recommended.
dibond – a composite of very thin layers of aluminum (0.3 mm) and low-density polyethylene between them. When milling, pay attention to the first and last layer of milling – the material is much harder there. Recommended milling with single or double blade cutter.
plywood – a good material to start working with CNC milling. The material is easy to mill with any type of cutter.
wood – depending on the hardness of the wood, the material can be milled at different speeds of the cutter. Soft raw materials can be processed quickly (eg Balsa – 10 mm / s) and hard materials slower (eg Oak – 3/4 mm / s).
soft metals such as aluminum, copper and bronze
wax
styrodur.
In the ZMorph materials catalog, you will find detailed parameters for the manufacturing process of these materials.
LASER ENGRAVING MATERIALS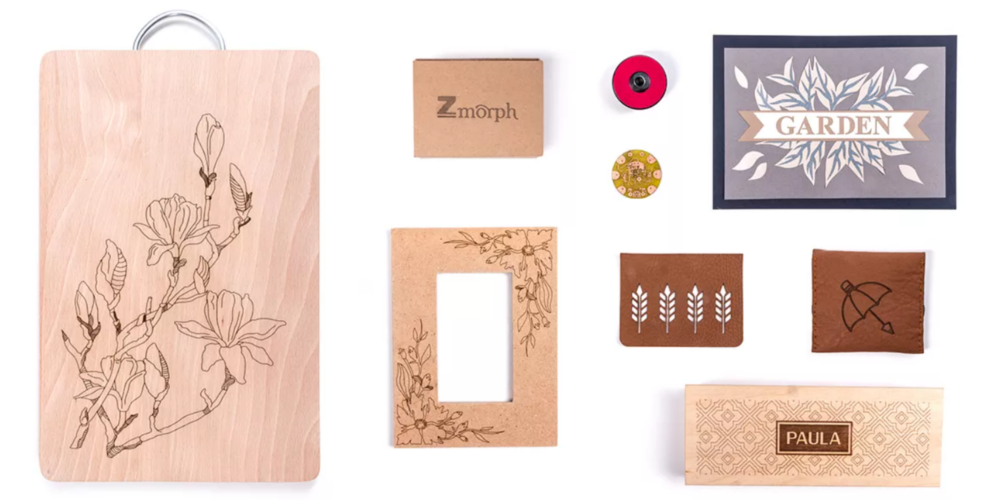 The Laser PRO laser head enables engraving and cutting of relatively soft materials, including:
leather – the Laser PRO head can be used both for cutting and engraving on leather up to a depth of 2 mm. However, keep in mind that it may emit fumes during processing.
soft wood and plywood – the materials are mainly dedicated to laser engraving. The maximum processing depth is 1 mm.
felt – a decorative material on the surface of which you can engrave and cut out the necessary elements.
foil – possible to cut and engrave, it will work well for stickers or advertising materials.
cardboard, paper, foams – materials whose greatest advantage is low price. Cutting and engraving possible.
Information on the recommended laser power, production speed and precision. Remember that when working with the Laser PRO head, you should be extremely careful and use personal protective equipment.
How to start working with additional ZMorph VX Full Set heads? They are made possible by proprietary software, i.e. Voxelizer. Voxelizer is designed to handle not only 3D printing heads, but also the milling and plotting module. In total, the software gives access to 9 operating modes – each of them contains special presets and allows for advanced editing of 3D printing settings, 2D and 3D cutting and engraving, laser cutting, paste printing, and others.