Formfutura was founded in 2012 by Arnold Medenblik and Rien Schuurhuis. Since the very beginning, the company decided to focus on manufacturing a filament for FDM 3D printers because of the growing demand for such products. They began with ABS and PLA, but soon broadened their offers with specialty filaments. Moreover, Formfutura's main goal behind these materials was really to service the 3D printing community with high-end and innovative solutions.
The company has grown rapidly into a well-established quality filament brand in the 3D printing world and now has one of the largest product portfolios, with multiple employees and resellers across the world and on every continent.
EasyWood™ is a revolutionary 3D printer filament, it looks, feels and smells like real wood! EasyWood™ filaments contain a unique mixture of at least 40% grinded wood particles in combination with the modified and proven easy-to-print binding polymers used for our EasyFil™ filaments. This extraordinary blend has resulted in several high-end and unsurpassed "easy to print" wood filaments.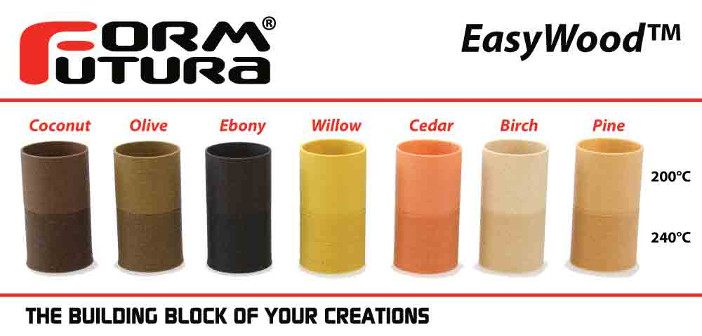 After the immense success of EasyWood™ Coconut, Olive and Ebony, we are delighted to announce the introduction of following 4 new variants in the EasyWood™ range:
EasyWood™ Birch
EasyWood™ Pine
EasyWood™ Cedar
EasyWood™ Willow
By adjusting the temperature you are even able to create a tree ring effect, adding to the 'real wood' appearance of the EasyWood™. You can clearly see that you can obtain different tints of the respective EasyWood variant™ by varying your temperatures settings.