3D Systems announced the launch of the latest version of its super-fast 3D printing system with light-curing resins – Figure 4, optimized for use in jewelry. The manufacturer claims that the machine is ideally suited to 3D printing of casting patterns, master patterns for molds, and prototype/fit check models, enabling the creation of prints ready for casting or forming in just a few hours. The package includes a 3D printer, dedicated JCAST-GRN 10 casting material and 3D Sprint software.
Figure 4 Jewelry uses a proprietary 3D Systems solution to generate support structures – MicroPoint, which enables very easy and virtually traceless support removal. In addition, 3D Sprint software has been equipped with a dedicated mode for jewelry applications, which in a specific and improved way prints thin walls and delicate geometries, typical of fine and precise jewelry.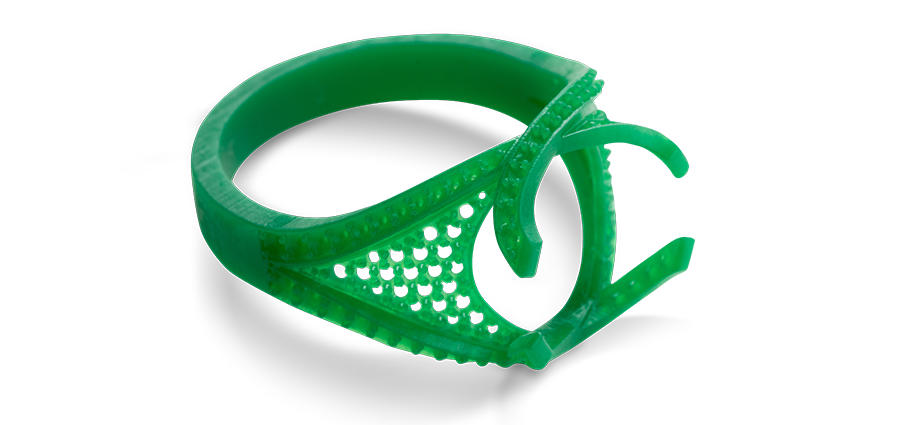 The Figure 4 additive platform consists of three product versions: The Standalone, Modular and Production. The first was launched in 2018 and consists of a single, independent additive machine. The second is a scalable and semi-automatic production platform that can consist of 1 – 24 machines, a dedicated post-porcessing station, an automated system for managing materials and software for remote 3D printing and queuing. The third version is designed as a tool-free production system with automated material delivery and integrated post-processing.
The Figure 4 series machines use light-cured resins irradiated with UV lamps in DLP technology. The devices are extremely efficient, achieving a 3D printing speed of 100 mm in the Z axis per hour (due to the specifics of the technology, 3D printing time is the same for both one and several models spread on the working platform – the resin is exposed simultaneously). We described the 3D Figure 4 3D printer among others in last year's article about the metal 3D printing laboratory Remet S.A.
Source: www.3dsystems.com