The latest version of the Z-SUITE 2.15.0 software has been released. New functionalities have been added, dedicated to the Zortrax Inkspire, Inventure and M300 Dual 3D printers, as well as new and improved existing 3D printing profiles for a wide range of materials.
The release of the latest update was preceded by the most extensive open beta program in the history of Zortrax. Thanks to the feedback from the community of 3D printer users, the new Z-SUITE is even better adapted to their needs and requirements.
New Z-SUITE 2.15.0. introduces the following functions:
More refined printing profiles for Zortrax Inventure and M300 Dual
Printing profiles are specially developed sets of process parameters, defined for each material supported by the 3D printer. They determine the extrusion and heatbed temperature, the speed at which the print head moves, and the material extrusion rate. It is possible to develop these settings yourself, but it requires a lot of skill and time. Nevertheless, proper setting of these parameters is necessary to obtain high-quality prints.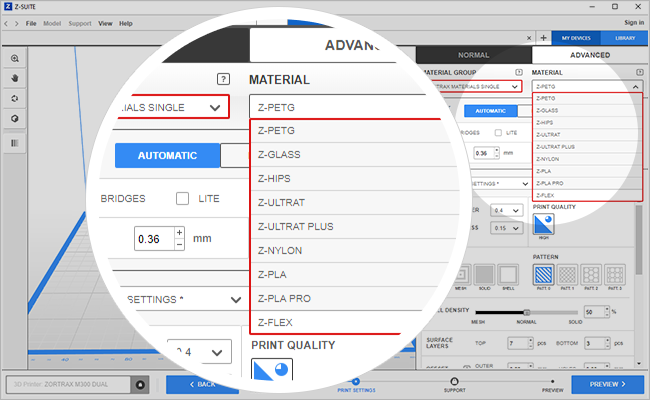 Thanks to the help of a large group of beta-testers, the Z-SUITE 2.15.0 update includes as many as 15 significantly improved or completely new printing profiles for the Zortrax M300 Dual and Zortrax Inventure 3D printers. This is the largest number of new settings introduced to the software in over a year. All new profiles are presented in the table below:
Single extrusion
Double Extrusion
Z-FLEX
Z-HIPS
Z-ULTRAT Plus
Z-ULTRAT
Z-PLA Pro
Z-PLA
Z-PETG
Z-GLASS
Z-NYLON
Z-SEMIFLEX
Z-PLA Pro
Z-PLA
Z-PETG
Z-GLASS
Z-ESD
Moreover, for some materials, different 3D printing parameters had to be defined, not only for a given material, but also for individual layer thicknesses.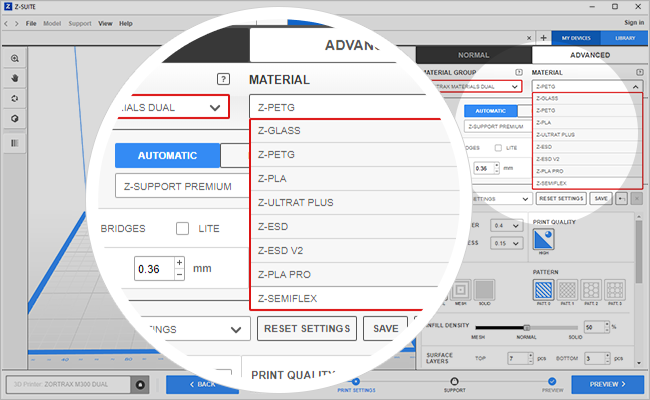 For example – the new Z-FLEX single extrusion print profiles have optimized settings for 0.15, 0.20 and 0.30 mm layer thicknesses.
Hybrid supports for double extrusion mode
Another new feature in Z-SUITE 2.15.0 that has been tested and improved in beta testing are the hybrid props. The improvement is aimed at accelerating 3D printing in double-extrusion mode, while reducing the consumption of support material. What does this mean in practice? By selecting the "hybrid supports" option, the M300 Dual and Inventure will print almost all supports from standard, non-dissolving material, except for points where the support is in direct contact with the model surface.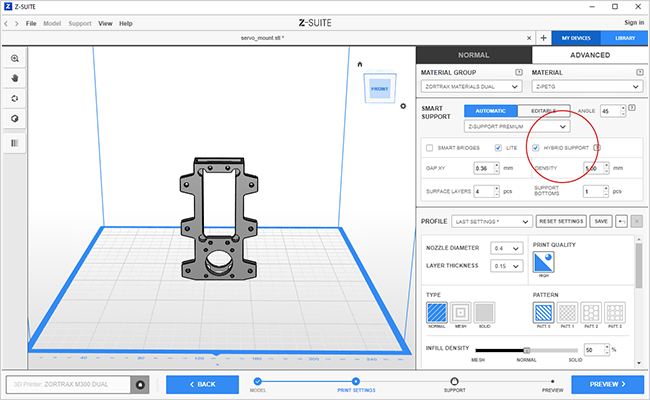 The contact points will be printed of water-soluble material to facilitate the removal of the support elements. It also speeds up the 3D printing process as the time to change materials is reduced.
A new type of supports – "tree supports"
The latest update also includes support optimization for resin prints. Tree supports are designed for jewelery. In a typical resin jewelry process, many pieces of jewelry are made and arranged in the shape of the so-called foundry trees. They are covered with plaster and placed in a furnace until burned out.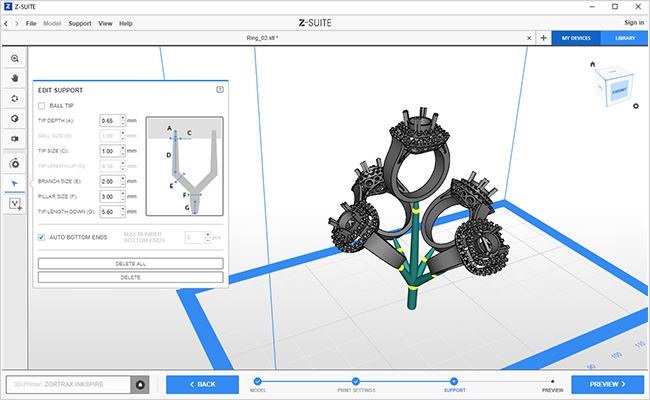 This creates a mold for target materials, such as gold or silver, from which the jewelry is cast. Direct printing of jewelry prototypes in the form of a tree will greatly facilitate and speed up this process.
New 3D printing profiles made of special resins
As part of cooperation with leading resin producers, Zortrax has developed profiles for special resins. The best, thoroughly tested print settings have been developed for them to ensure the best possible print quality. Zortrax collaborates with HARZ Labs, Dreve and ApplyLabWork to develop a range of 23 printing profiles for outdoor photopolymer materials.

ApplyLabWork offers a range of resins intended mainly for modeling applications. Their MSLA material line provides a smooth, high-quality surface finish. The Dreve range focuses mainly on dental materials suitable for printing clear surgical models. HARZ Labs is also a producer of resins intended for digital dentistry. Highlights in their range are Dental Cast, for creating molds for permanent dental ceramic and alloy components, and Dental RO, for printing fillers that do not create artifacts on CT scans.