Among the many companies emerging from the already very large internal Chiniese 3D printing market, SHINING3D has been recognized as a leading developer and manufacturer of 3D scanning, 3D printing and 3D software solutions. The company has been amonsgest the most proactive in expanding its reach beyond mainland China and into Western markets.
The opening of its new European headquarter in Stuttgart, Germany – and subsequent establishment of SHINING3D EMEA – is the next logical step in this expansion strategy. The company believes that Europe is a strategic area in its plans to accelerate the introduction of its industrial, professional and consumer product into the global market.
Founded in 2004 in Hangzhou, China, SHINING3D gained international recognition for its offer of 3D scanners, ranging from basic desktop systems to industrial grade systems. Leveraging the experience gained in this segment, SHINING expanded its offer to include all major 3D printing technologies (SLA, SLS, SLM and binder jetting) both as a system supplier and through a wide range of design and manufacturing services.
SHINING3D is China's first company in the 3D digitizing and printing industry to be listed on the OTC market. As such the company continues to innovate. It submissions for patent protection include 64 utility patents for inventions, 54 utility model patents, 27 appearance patents and 55 software copyright submissions.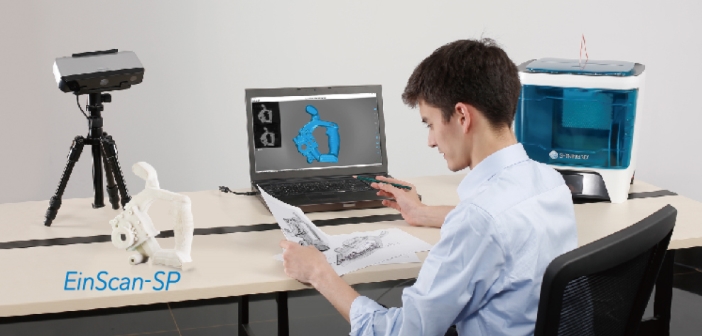 SHINING3D EMEA is going to operate as a dedicated sales, support & innovation center for SHINING3D's products for the European, Middle Eastern and North African markets. The new branch is expected to solidify the company's sales activities, which were previously handled exclusively by SHINING3D distributors across EMEA territories.
The EinScan S desktop 3D scanners enjoys a strong reputation among professional for high speed and accurate scans. These new models enable even faster single scans (under 4 seconds with the SP version) and 360° scans (under 1 minute with the SP version); with maximum single shot accuracy below 100 micron for the SE version and below 50 micron for the SP version.
Both systems also feature one-click uploads to third party data sharing platforms, with automatic alignment and automatic mesh generation. The scanners produce accurate 3D models which can be directly 3D printed, without the steep learning curve necessary for complicated 3D design software, by auto-meshing files to be watertight.