In November last year, Flashforge – a leading Chinese manufacturer of desktop 3D printers, announced the premiere of its device – Creator 4, a two-head 3D printer with interchangeable extruders for high-temperature materials. It was the first product in the company's wide offer dedicated to the industrial sector, allowing you to work with such difficult materials as TPU, PC (polycarbonate), PA (polyamide), or numerous composites of the above materials such as PCABS or PA doped with carbon or glass fiber. Now the manufacturer goes one step further and introduces a filament drying device dedicated to Creator 4 – Flashforge Filament Drying Station.
Working with high-performance and high-temperature plastics presents many challenges. Apart from the most obvious one, which is the high shrinkage of these materials, a significant problem is their high hygroscopicity, which applies in particular to polyamides. Storing filaments in an open environment (even if it is an office environment) causes them to get wet quickly, which leads to degradation of their natural properties and multiplies problems with 3D printing.
When filaments such as PA, PACF, TPU and PVA support material are exposed to an ambient humidity of 25%, the printouts significantly lose surface quality. Meanwhile, reducing the humidity to 10% significantly increases the quality of 3D prints. At the same time, drying materials – depending on their species, improves their strength, increases resistance to impact and tensile strength.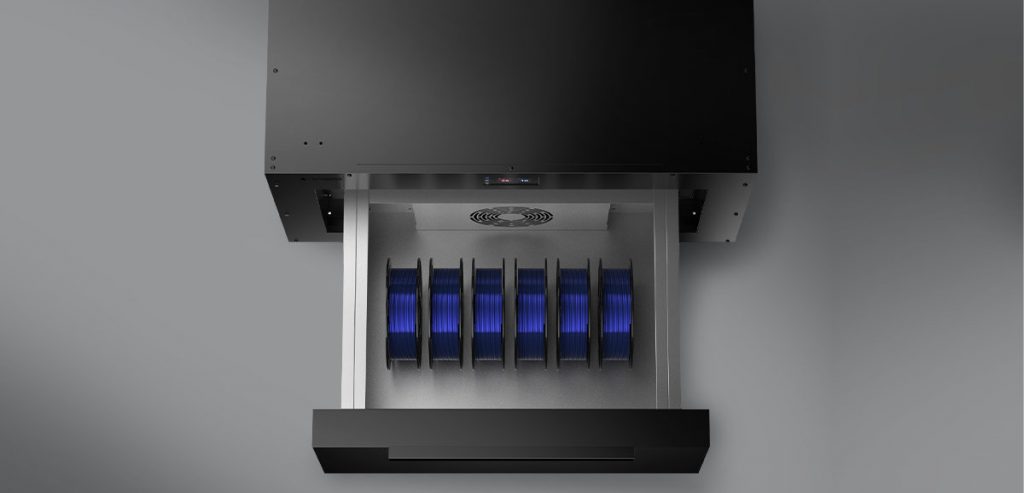 The Flashforge filament drying station was created to help solve the above problem and store materials in a controlled environment. In combination with the Creator 4 3D printer, the station ensures the temperature stability of the filaments used during the 3D printing process, minimizing the risk of part defects and increasing the efficiency of work that is not interrupted, for example, by problems with a clogged print head.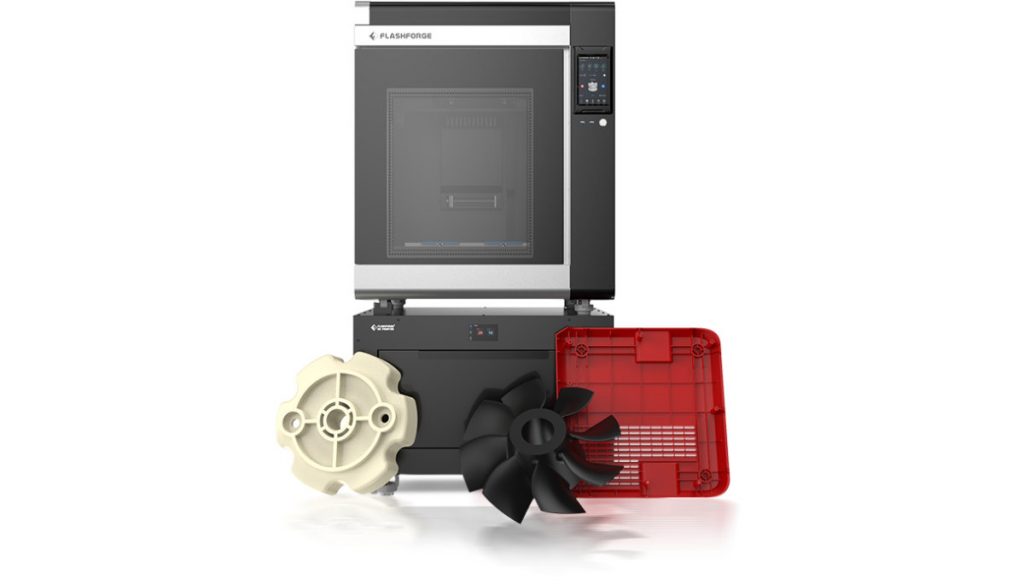 The station can heat materials up to 120 ℃, it is also equipped with a silica gel desiccant which, when released through the hot air circulation system, ensures that the filaments stay dry even during long-term storage. It weighs 120 kilograms, so it can be successfully used as a basis for a 3D printer itself. At the bottom it has four wheels that help in moving the complete station with the 3D printer. The drawer of the device is large enough to hold six one-kilogram rolls or two 2.5-kilogram rolls of filament. A 4.3-inch touch screen is used for control.
Source: www.flashforge.com
Source: www.flashforge.com (press materias / all rights reserved)