Spectrum Filaments – a leading manufacturer of consumables for FDM / FFF 3D printers in Poland and Europe, has prepared a set of new filaments for the Formnext fair in Frankfurt am Main. Among them are fireproof, high-temperature, abrasion-resistant and flexible materials.
In total, seven new products will be presented at the fair: r-PLA, PET-G FR V0, PA6 CS20 FR V0, PC / PTFE, PET-G MATT, ABS Kevlar and S-Flex 85A.
Spectrum r-PLA
Spectrum r-PLA is an ecological material for 3D printing that is part of the sustainable development initiative. Filament is made by reusing a stream of recycled residual waste from extrusion.
Key Features:
produced from recycled materials
lower environmental impact thanks to the reuse of waste
ecological, cardboard spool
ease of printing similar to ordinary PLA
Spectrum PA6 CS20 FR V0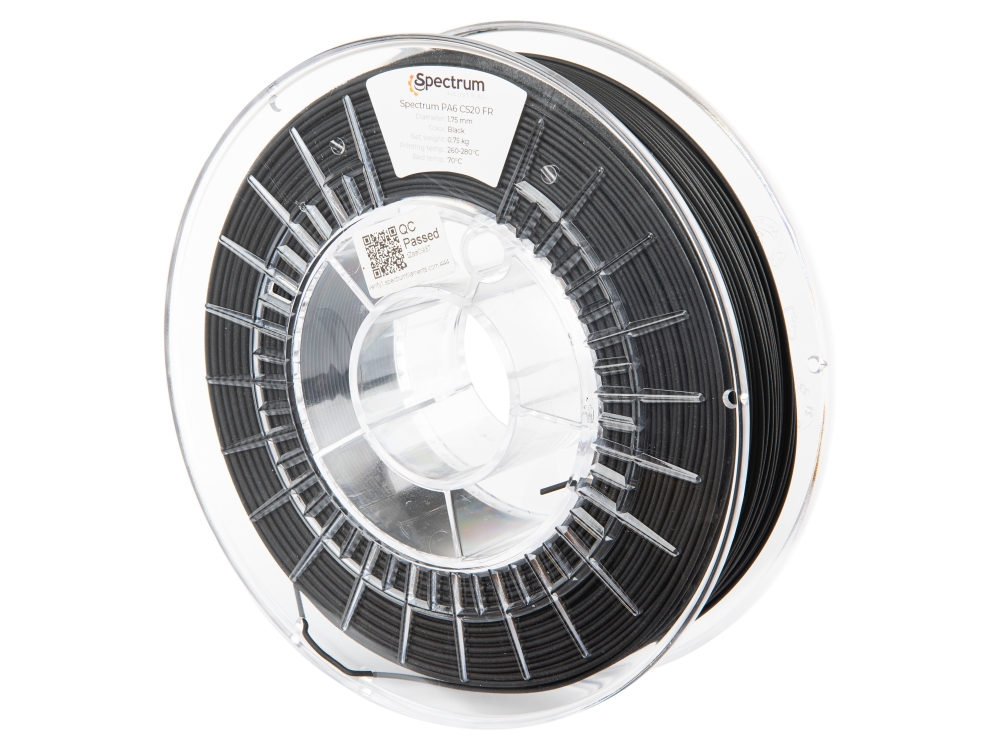 Spectrum PA6 CS20 FR V0 is a new, fire-resistant construction material based on polyamide 6. The applied ceramic fillers increase thermal stability without causing processing problems. Thanks to the halogen-free flame retardant used, the UL-94 V0 flammability class is achieved on printed parts with a thickness of ≥0.4 mm.
The material from which the Spectrum PA6 CS20 FR V0 filament is made complies with the EN 45545 standard in the railway industry.
Key Features:
unusually low processing shrinkage (linear) <0.1%
high temperature resistance up to 160 ° C for short-term operation (max. 200h)
high temperature resistance up to 120 ° C for long-term operation (20,000h)
flammability class UL 94 – V0 (thickness ≥0.4 mm)
Spectrum PET-G FR V0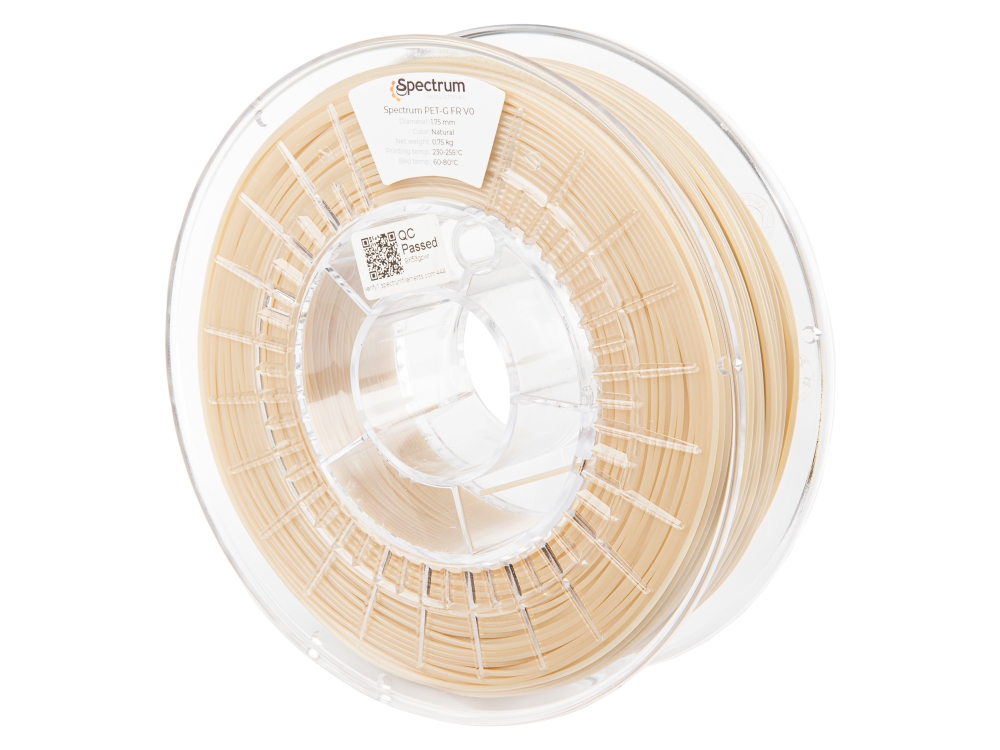 Spectrum PET-G FR V0 is a new, halogen-free, flame-retardant material for 3D printing based on the popular PET-G. The filament has been designed in accordance with the flammability standards UL 94 V0 *, which means that the vertical burning of the filament or the printed part does not last longer than 10 seconds. Most common plastics have low fire resistance, hence the Spectrum PET-G FR V0 filament, which is flame retardant or self-extinguishing in order to ensure a high level of safety in the everyday life or work environment.
The filament is not certified by Underwriters Laboratories and has no UL number.
Key Features:
designed to meet UL 94 V0 * standards
fireproof, self-extinguishing
halogen free
excellent dimensional stability
Spectrum PC / PTFE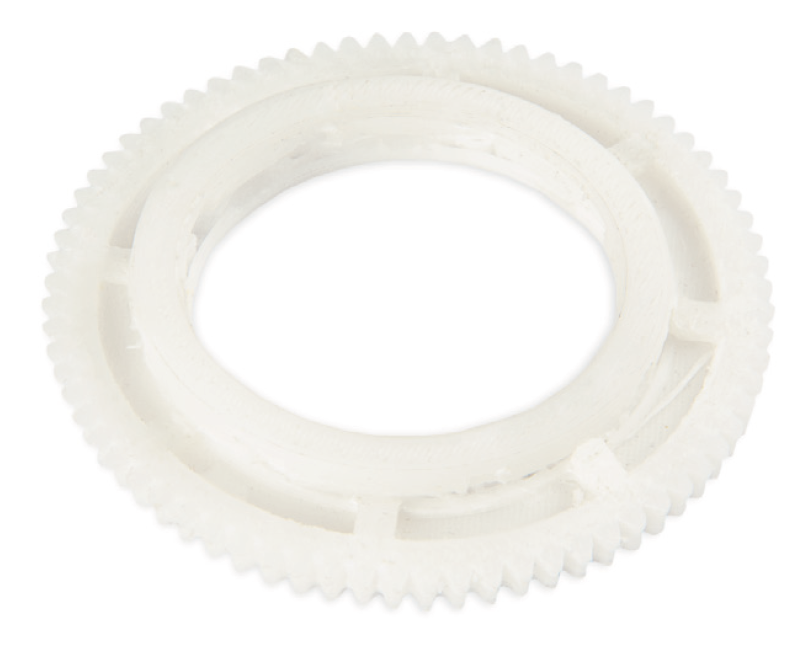 Spectrum PC / PTFE is an advanced composite filament based on polycarbonate (PC) with the addition of PTFE, commonly known as Teflon. The high demand and the limited availability of additive manufacturing materials with very good mechanical properties, with particular emphasis on high abrasion resistance, initiated activities aimed at combining the very good properties of PC and PTFE. Polycarbonate provides high mechanical resistance, and PTFE supplements them to reduce wear and friction.
Key Features:
low processing shrinkage (linear), approx. 0.6%
deflection temperature under load (HDT) – 140 ° C
Vicat softening temperature – 145 ° C
flammability class UL 94 (3.0mm) – V1
electrical resistance 1E12 Ohm
static friction coefficient – 0.18
dynamic coefficient of friction – 0.14
Spectrum ABS Kevlar
Spectrum ABS Kevlar is a structural ABS-based composite filament with the addition of aramid fibers, commonly known as Kevlar. Demand for properties better than standard ABS offers, strength and increased tensile strength initiated actions aimed at combining very good properties of ABS plastic and aramid fibers.
Key Features:
industrial grade material
material enriched with aramid fibers
Vicat softening temperature – 95 ° C
HDT thermal deformation temperature – 88 ° C
Spectrum PET-G MATT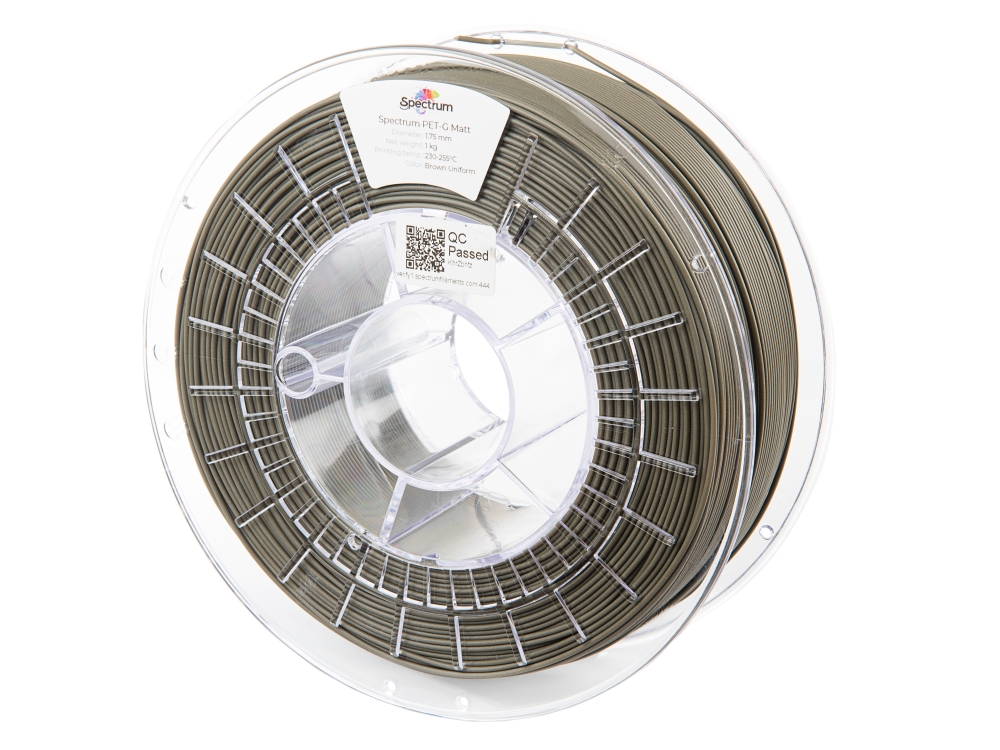 Spectrum PET-G MATT is a material based on PET-G, the chemical composition of which has been modified in such a way as to enable obtaining matte surfaces of prints. The matt appearance of the manufactured elements significantly increases their aesthetics and, moreover, minimizes the visibility of the layers on the side surfaces of the manufactured elements. The Spectrum PET-G MATT modification also included UV stabilization.
Key Features:
VICAT softening point – 75 ° C
UV stabilizer
high-quality matt side surface with hardly visible layers
Spectrum S-Flex 85A
Spectrum S-Flex 85A is a filament based on a thermoplastic polyether polyurethane. In the area of ​​additive manufacturing, S-Flex 85A is a material characterized by a relatively easy and failure-free course of the 3D printing process. An additional advantage that allows obtaining a perfect printout is the very good adhesion of the first layer of the part produced to the worktables, regardless of whether it is made of glass, steel, plastic or other material.
Key Features:
up to 650% elongation at break
high resistance to stretching and tearing
85A Shore hardness
resistance to many common industrial oils and chemicals
Source: www.centrumdruku3d.pl