The design of protective masks, created by engineers of the Czech Technical University in Prague, has gained a new, large partner. Škoda Auto, a Czech car manufacturer, belonging to the Volkswagen AG group, offered its own processing capacity and assisted in 3D printing of protective masks for their design. Thanks to the support, it is possible to 3D print up to 60 additional pieces per day.
In the said project, from the very beginning, strong emphasis was placed on security issues, proposing MJF technology as a 3D printing method. The CIIRC RP95 protective mask they developed was optimized for production on HP devices, which is why its creators came to companies that have such devices and can help in their production.
Read the story:
In this particular situation, Škoda suspended production of prototypes of car parts and decided to support the Czech Technical University. The cooperation began dynamically – after the successful 3D printing of five test pieces, it was decided to start serial production as soon as possible. The company's engineers optimized the process to obtain 60 protective masks in one production batch, thereby increasing the efficiency of the process. Time for making one batch is 16 hours, to which should be added another 16 hours for cooling and post-processing.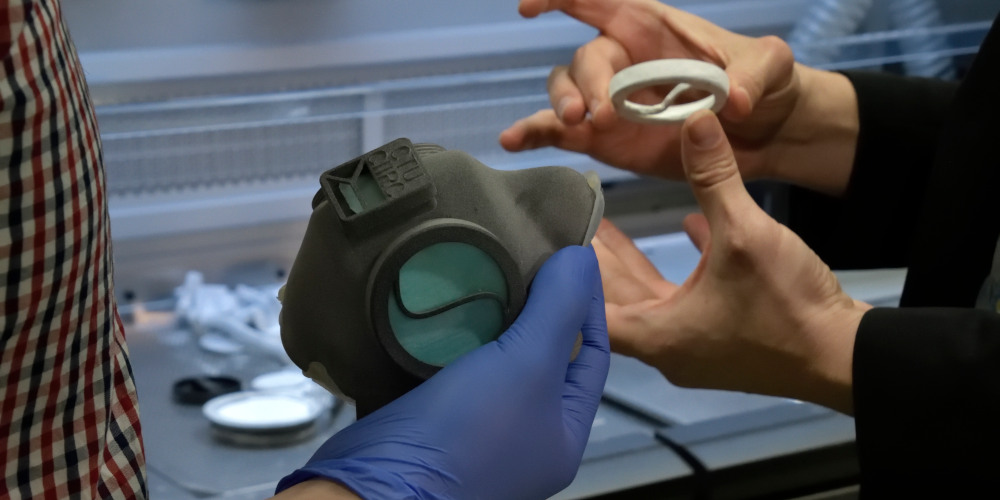 David Vaněk, responsible for the prototype and model construction department at Škoda, explains that printing from PA12 using HP devices ensures a homogeneous print structure without clear layers and significant porosity. This is important due to the fact that the greater the roughness, the better the environment for the deposition of microorganisms or viruses on the surface. In addition, production using an HP device ensures high repeatability, which is a priority in the production of medical components and personal protective equipment
Both the mask and the production process are certified in accordance with the EN 140: 1999 standards for the safety of users, which means that the device equipped with a P3 filter has the same level of security as the FFP3 class mask. The mask can be used several times – it can be sterilized thermally (steam) or chemically, 85% ethanol based.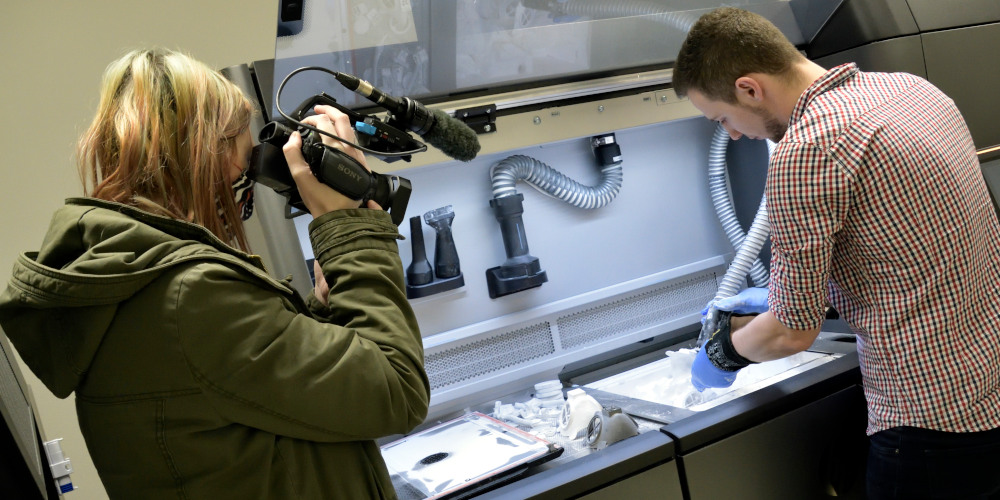 Currently, printed parts are sent to 3Dees, a company that assembles masks and makes them available for further distribution. At the same time, work is underway to prepare the form for creating masks, but before this happens, according to the team from the Czech University of Technology, MJF technology is the most suitable for the production of protective masks for their design.
The project is officially promoted by HP:
Source: www.centrumdruku3d.pl