There is more and more talk about ceramics 3D printing. The companies add ceramic materials to the range of their materials, expanding the range of available applications of 3D printed ceramics and going beyond the scope of decorative applications or everyday products.
The topic turned out to be so interesting that it became the theme of the report published by SmarTech Analysis. The document "Ceramics Additive Manufacturing Part Production: 2019-2030" sets out the most important from the market point of view 3D ceramic printing technologies and sectors in which 3D printing can replace traditional manufacturing methods. How does SmarTech forecast the value of the 3D printing market for ceramic materials?
Experts from the analytical company say that despite the prevailing COVID-19 pandemic, over the next ten years, revenues from equipment, materials and applications in the field of 3D printing from ceramics will increase to USD 4.8 billion by 2030. According to an earlier report published in 2017 by the same company that by 2028 this sector will generate $ 3.8 billion, but due to intensive technology and emerging innovations, SmarTech had to make some adjustments to its earlier predictions.
A significant increase in the share of 3D printing technology from ceramic materials is expected for 2025, when the most popular technologies will be simple and intuitive enough for use in industry. It is also expected that the largest increase will be recorded in applications where ceramics are used for technical applications. Such materials are characterized by increased mechanical, thermal, chemical and electrical resistance – they are particularly useful in sectors such as automotive and aviation.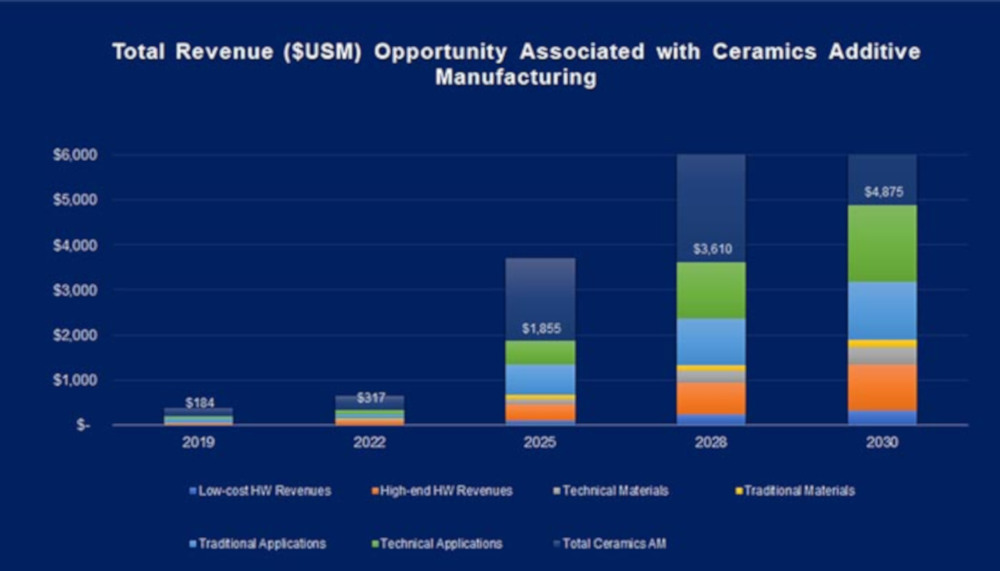 According to SmarTech forecasts, 2025 will be a breakthrough year, and by 2030 the value of the market will tripled. Then there will be full recovery after the slowdown in the market resulting from a pandemic. They add, however, that Asian countries will lead the way in implementing solutions in the field of 3D printing from ceramics. China and Japan are already using these technologies in production, which will undoubtedly overtake most European and American countries.
The report contains analyzes of companies from the 3D printing industry, including forecasts for service, equipment or materials suppliers. Among the enterprises discussed in the report were a number of the most popular industry representatives, including 3DCeram, Lithoz, Prodways, Admatec, ExOne, voxeljet or XJet.
The full version of the report is available on the SmarTech website.