Raspberry Pi is a mini computer that has revolutionized amateur electronics and electrotechnics, enabling thousands of enthusiasts and hobbyists to create an infinitely wide range of devices and gadgets at home. It's fair to say that his influence on the development of the brokerage and DIY movement was as great as the appearance of Arduino and RepRap 3D printers. Today it is an indispensable part of any electronic or robotic project carried out in schools and FabLabs.
Like any such project, it quickly got its clones. One of them is Banana Pi M2, which differs from its prototype only in a number of components and the price. It was created by the Chinese company Sinovoip.
Its two main advantages over the original are the square shape, which can be much better fitted into the designed device and the built-in EMMC memory at the level of 8GB, allowing, for example, to install your own operating system without the need for an additional SD card.
Full technical specification of Banana Pi M2:
type of memory: DDR3
RAM capacity: 1GB
processor: H3 ARM Quad-Core
dimensions: 65 x 65 mm
architecture type: Cortex A7
supply voltage: 5V DC
operating system: Android, Debian, OpenSuse, Raspbian, Ubuntu
graphics layout: ARM Mali-400MP2
video coding: H.264 BP / MP / HP, H.265 / HEVC 4k, MPEG1 / 2, MPEG4, OpenGL ES 2.0, VP8
prototype board included
communication protocol: IEEE 802.11b / g / n
connector types: 40pin, HDMI, USB A x2, USB B micro, pin strips, CSI port, power supply
Interface: Ethernet, GPIO, I2C, I2S, IrDA, SPI, UART, USB 2.0
Programmer / Eraser properties: microSD memory socket, Bluetooth / WiFi module.
To use the Banana Pi independently (e.g. from a larger device to be controlled), we need a housing for it. Thingiverse is quite poor in this respect – we have only a few projects at our disposal that are either not very functional or simply ugly. We decided to create our own version, which may not throw on its knees design, but provides easy 3D printing and protects the computer well.
The design was made in the free Autodesk 123D Design software.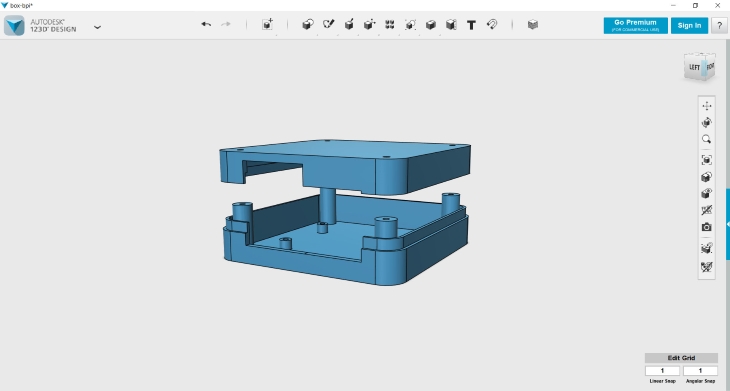 The base has eight bolt holes inside – four for Banana Pi mounting, four for mounting the top case.
The housing was 3D printed on Panowin F1. As the model has a 10 x 10 cm base, it took almost the entire working table of the 3D printer. However, the case was printed with EasyPLA Fiberlogy, so we had no problem with shrinkage. We set the height of the printed layer to 0.2 mm.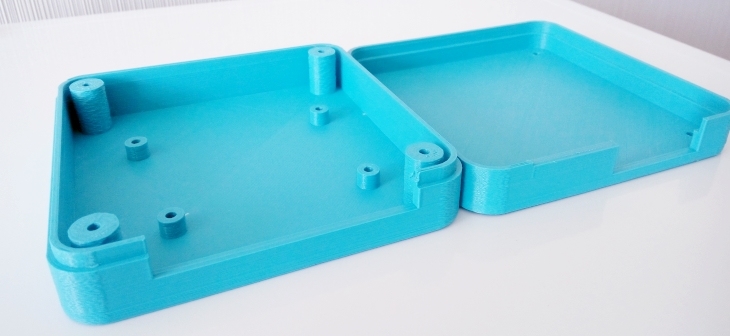 To achieve the best possible result on Panowin, it is best to 3D print models on the default raft settings, which ensures perfect adhesion of the 3D print to the table. Unfortunately, the flaw of this solution is that with such large surfaces it does not look as good as 3D printing directly on glass surface… In addition, traces of the hexagons from which the raft is built remain. Well, the case won't win the "most beautiful 3D PLA print" award, but that wasn't the goal of the project.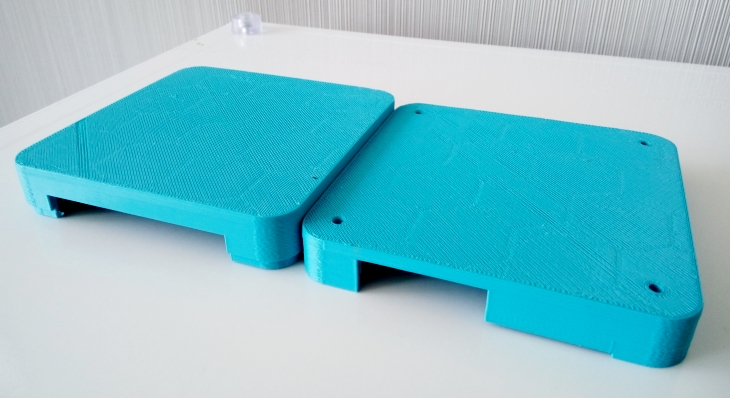 Although it was our first attempt, Banana Pi fitted perfectly into the housing. At the back we slipped the antenna into the WiFi module and screwed the computer itself to the housing.