Over the past few months, we've published a lot of information about mask designs proposed by 3D printer manufacturers and materials. The problem often noticed by our readers was the low availability of filters. As it turns out, this problem can be tried to be solved using 3D printing technology.
ExOne, a producer of devices working in the Binder Jetting technology, in cooperation with scientists of the University of Pittsburgh are working on a method of additive creation of copper filters for protective masks. As the developers say, metal filters will be disinfectable and reusable to provide lasting protection against viruses such as COVID-19.
In the whole process, Binder Jetting technology plays a special role, which allows the production of metal parts with specific porosity levels, so as to effectively filter out unwanted pathogens, while allowing air flow and free breathing. Currently created filters are matched to the proprietary protective mask developed by researchers at the University of Pittsburgh.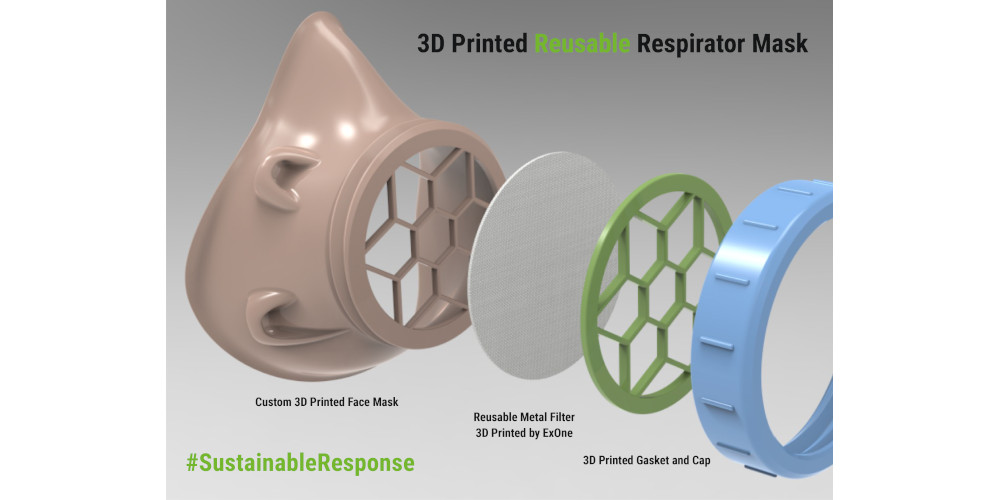 Filters are printed from two types of materials – 316L surgical steel and copper. Currently, airflow efficiency and filtration tests are being conducted – ultimately, the filters will be optimized for compliance with the N95 protective mask standard. As John Hartner says, ExOne CEO, after approving the correct operation of the masks, the project can be adapted not only to protective masks, but also to respirators or anesthetic masks.
The possibility of copper 3D printing, which is provided by ExOne devices, allows the creation of antibacterial 3D prints, on the surface of which the activity of the COVID-19 virus is much lower than that of other metals. In the fight against pandemics, the use of materials whose biocidal properties have been known for a long time may prove to be particularly important. Earlier, the Australian company SPEE3D presented the idea for 3D printing of copper anti-bacterial coatings.
Markus Chmielus, Associate Professor of Mechanical Engineering and Materials Engineering at Swanson School, emphasizes that Binder Jetting technology gives the ability to determine the porosity of a printed part and then fine tune it in sintering processes at high temperature to achieve optimal filtering performance. Usually, the material is sprayed to obtain the least porosity, but applications such as filters require special solutions.
To study the properties of materials, scientists use CT scanners that allow them to analyze the microstructure and porosity of the filters. Research supports, among others Ansys, a world leader in engineering simulations, providing additional support for computer simulations, to perform the most reliable analyzes.
Source: exone.com