AIM3D – the German manufacturer of multi-material 3D printers, spent the first half of 2021 developing a new generation of extruders for 3D printing of composite materials, which it intends to present for the first time at the Formnext fair in Frankfurt am Main next week. CEM-E2 is a multi-material extruder that can print from metal, plastic and ceramics. At the same time, the company is working on several large-format 3D printers that use material in the form of granules, which are to ensure high speed 3D printing.
The CEM-E2 extruder is designed to work with specific groups of materials. The "M" version supports metal injection molding granules used in MIM technology, while the "P" version is designed for plastics. The third head, "C", is designed to work with CIM Ceramic Injection Molding Granules and applications requiring higher abrasion resistance.
The new extruder extrudes the material with much greater accuracy than the company's previous products, which, according to AIM3D, ensures the production of parts with better surface quality and better mechanical properties. The extrusion speed was increased by more than 200% and the throughput was increased to 220 cm³ per hour. The extruder uses nozzles with a diameter of 0.4 mm typical for 3D printers printing from thermoplastics.
AIM3D develops the proprietary ExAM 255 3D printing systems. It is the first 3D printer in the world that uses the CEM process to produce metal parts. In his work, he uses granulates that are conventionally used for injection molding. The device can print prototypes made of metals such as steel, but also of plastics – without the need for costly retrofitting. The ExAM 255 has an automatic material feeder and can process one liter of material into an extruder. This is equivalent to ~ 1.2 kg of ABS or 4.4 kg of stainless steel. The material hopper can also be refilled during the 3D printing process.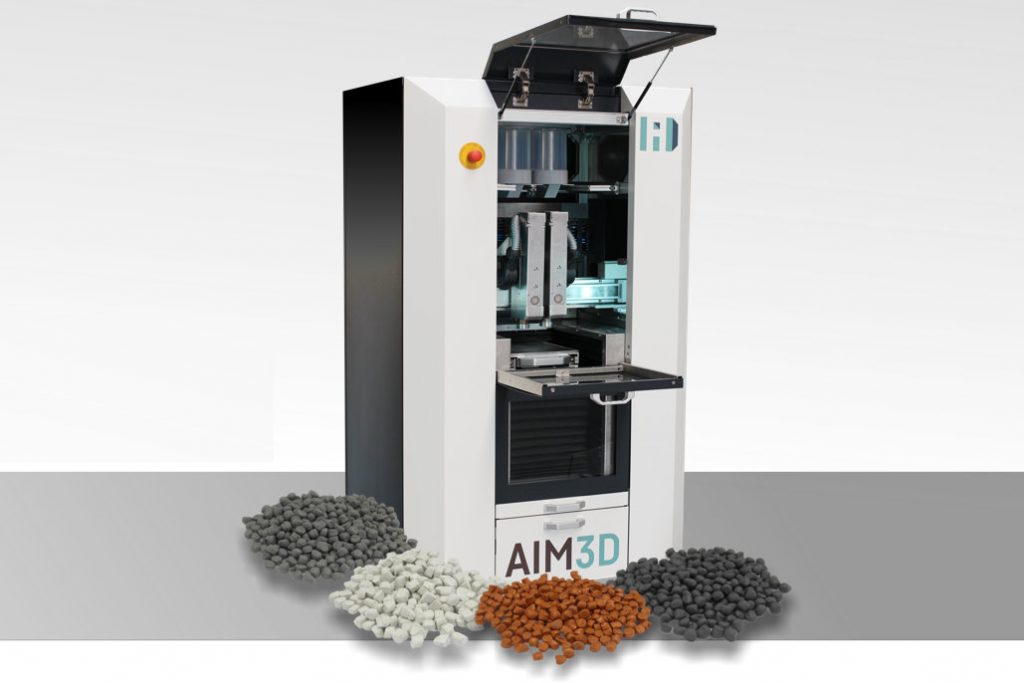 Complementary to the 3D printer is the ExSO sintering furnace, in which metal parts can be sintered directly after the 3D printing process. The manufacturer guarantees the creation of a metallic structure that is almost stress-free, with the structure of parts cast by traditional manufacturing methods.
Source: www.formnext.mesago.com
Photos: www.aim3d.de / photos used only as a right to quote in accordance with Art. 29. Right to quote Copyright and related rights law.