Following a recent release of an e-commerce solution for 3d printing professionals Printelize makes its software available in German, Portuguese and Spanish (apart from English and Polish).
What is Printelize.com?
Printelize Professional is a subscription based (Software as a Service) online sales automation software which will help you create 3D pritning quotes based on uploaded files, manage customer relationships (CRM), and process orders together with financial transactions. All of that can be available under own domain name and with own branding as the platform is offered as a white-label solution. With a price starting from 75 EUR a month and a free trial version it is a fantastic proposal for 3D bureaus of any size. In other words with Printelize you can have a quote tool like the big market players have but without any investment – just a small monthly fee.
By using Printelize Professional preparation of quotes for your customers requires nothing more than an upload of a 3D model file and selection of print parameters. The system will calculate prices together with shipping costs based on the initial account settings. Alternatively, you can create quotes for your customers and send them out from the system.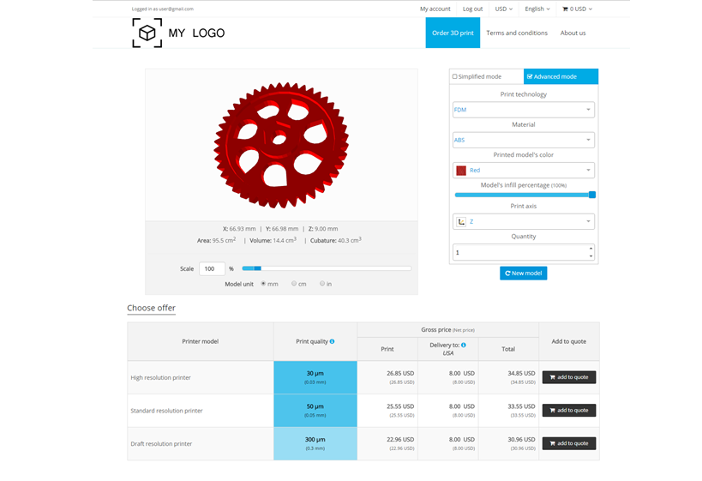 What else is there? Printelize Professional comes with lots of useful features like dynamic pricing formulas (with Excel-like syntax), inventory and consumables management. Apart from that, it allows for email templates configuration, management of color schemes and creation of salesperson accounts. 3D bureaus owners may decide if they make the platform publicly available or just accessible to selected customers.
Registration of accounts is immediate and does not require any credit card details. Plans and pricing is available here.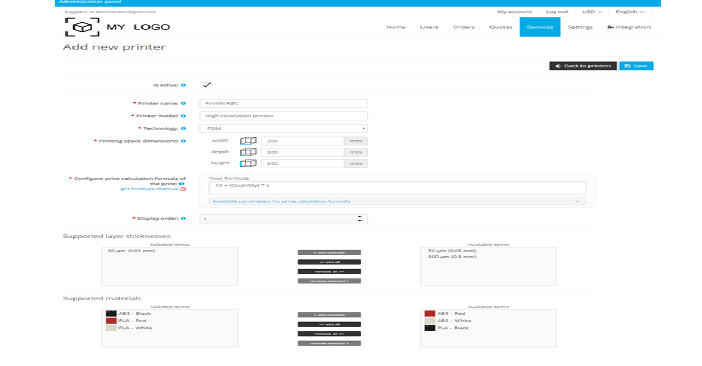 About Printelize.com
A technology venture set up in 2014 by a team of software professionals and 3D printing experts. The company has its headquarters in Poland and the business is accelerated by European Commission and the FABulous program. Printelize's mission is to provide the society, both private consumers and business entities, with innovative software tools enabling seamless and efficient ways to order and offer 3d printing services.