With the release of Zmorph Fab last year, a few months ago polish producer of 3D printers went through a complex rebranding. The change in the visual indentity of the brand went hand in hand with the premiere of the Zmorph Fab. Next step was introduction of new, high-performance 3D printer, Zmorph i500.
New machine is engineered for efficient and high performance production, dedicated to prototyping and low-volume production. i500 helps to reduce operational costs, as well as maximize the uptime and productivity. Thanks to large build volume it is possible to increase the throughput and productivity.
Zmorph i500 allows for 3D printing from materials with a diameter of 1.75 mm. In the case of additive manufacturing with the use of only one print head (no supports or supports made of a structural material, mechanically removed), the large build volume is 460 x 300 x 500 mm, while using both heads (supports made of a water-soluble support material) is 440 x 300 x 500 mm. The 3D printer has an insulated working chamber and a head that heats up to 300 ° C , which allows for printing of details from demanding engineering-class materials.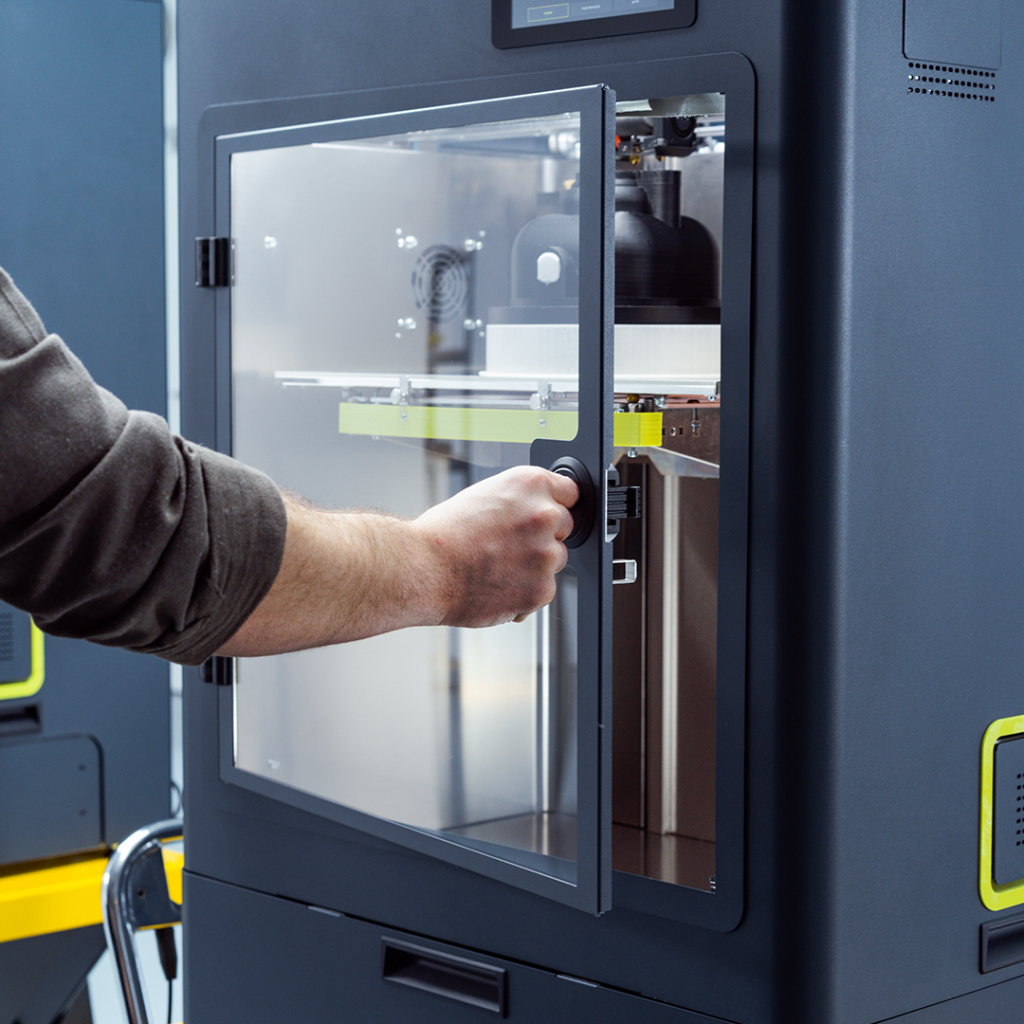 The new 3D printer is equipped with Full Metal Dual Drive Dual Extruder with Nozzle Lifting System, which allows to easily replace hotends. Moreover, the new device has an improved extrusion system – the high quality of the machine components allows for high-quality components, guaranteeing the efficiency and reliability of 3D printing. Filament sensors control the material flow, ensuring the seamless 3D printing experience. Applied Air Flow system is composed of the input G4 filter, which clears the air flowing into the chamber, and output HEPA/Carbon Filter, which clears the air flowing out of the machine from fumes and particles created during the process.
Technical Specifications:
3D printing technology: FFF
build volume:
single material 3D printing: 460 x 300 x 500 mm
dual material 3D printing: 440 x 300 x 500 mm
layer resolution: 0.05 – 0.4 mm
maximum head temperature: 300 ° C
maximum temperature of the working table: 130 ° C
minimum wall thickness: 0.4 mm
dimensional accuracy: +/- 0.2 mm
filament diameter: 1.75 mm
Connectivity: USB (flash drive), Ethernet, WiFi
available materials: PLA, ABS, PET-G, Nylon, BVOH, ASA, HIPS, PA, TPE
printing speed: 10 – 110 mm / s
Among the potential applications, the manufacturer mentions low-volume production, creation of non-standard tools and prototypes in particular in industrial sectors. Changes in the brand image position the new Zmorph devices as solutions suitable for the industry – engineering, automotive or aviation.