Up until its unveiling just a couple weeks ago, the 3D printing community had been eagerly awaiting Hewlett-Packard's promising introduction into professional-grade additive manufacturing. When HP pulled the sheet off of their Multi Jet Fusion 3D printers and Processing Station in Barcelona, Spain— and not long after at the 2016 RAPID Conference in Orlando, Florida— the already budding hype began going full-steam ahead, and now, it seems that every day comes with an relevant news flash or development.
In case you're not acquainted with HP's Multi Jet Fusion 3D printing ecosystem yet, here's what we know so far. HP will be releasing two 3D printer models, the HP Jet Fusion 3D 3200 and HP Jet Fusion 3D 4200, the latter of which is engineered for higher productivity levels for both prototyping and short-run manufacturing. According to HP, both printing systems will feature 10x faster printing speeds than other industrial printers, lower cost-per-part, extremely high accuracy, as well as thermal control on a voxel-by-voxel basis. The 3D printing system also includes a generous build size of 16 x 12 x 16 inches, and can produce up to 2500 parts per print tray.
This access to thermal control will enable customers to govern 900 points on the print bed in real-time, ensuring consistent and quality performance during the entire operation. The printers themselves are said to feature three printheads with 10K nozzles, as well as an absurdly high resolution of 1200 dpi. The entire system is starting at a low industrial price of $145k, making HP's Jet Fusion 3D portfolios one of the most potentially disruptive devices to ever hit the professional-grade 3D printing market. Back in October 2015, while their 3D printing technology was still being developed, HP's senior vice president of Inkjet and Graphic Solutions, Stephen Nigro, discussed the void that their Multi Jet Fusion technology was set to fill.
"As we examined the existing 3D print market, we saw a great deal of potential but also saw major gaps in the combination of speed, quality and cost," said Nigro. "HP Multi Jet Fusion is designed to transform manufacturing across industries by delivering on the full potential of 3D printing with better quality, increased productivity, and break-through economics."
It's true that much of the hype surrounding HP's new 3D printing system is centered around its swiftness and cost-effectiveness, but to me, the most exciting facet of their MJF technology is the open platform that was implemented into the system. This will be especially helpful in material development, as HP has already partnered with different companies— such as Evonik, BASF, Arkema, and others— to engineer new and enhanced MJF-compatible powder materials. In addition to those partnerships, HP is also working with established companies like Shapeways, Materialise, Jabil, Siemens, and Proto Labs, which will help to further develop their 3D printing ecosystem.
Still, for all the excitement revolving around this recent announcement, HP still admits that there is a long way to go before their 3D printing system reaches its full potential. Currently, the HP Jet Fusion 3D 3200 and 4200 are capable of printing with thermoplastics, which HP plans to expand into other plastics, polymers, and are even developing a process to print with ceramics. They're also promising multi-color capabilities in the near future as well, but thus far, the first generation printer will only provide single-color technology. At RAPID 2016, HP reportedly displayed proof-of-concept multi-color prints, as well as flexible and moving component samples.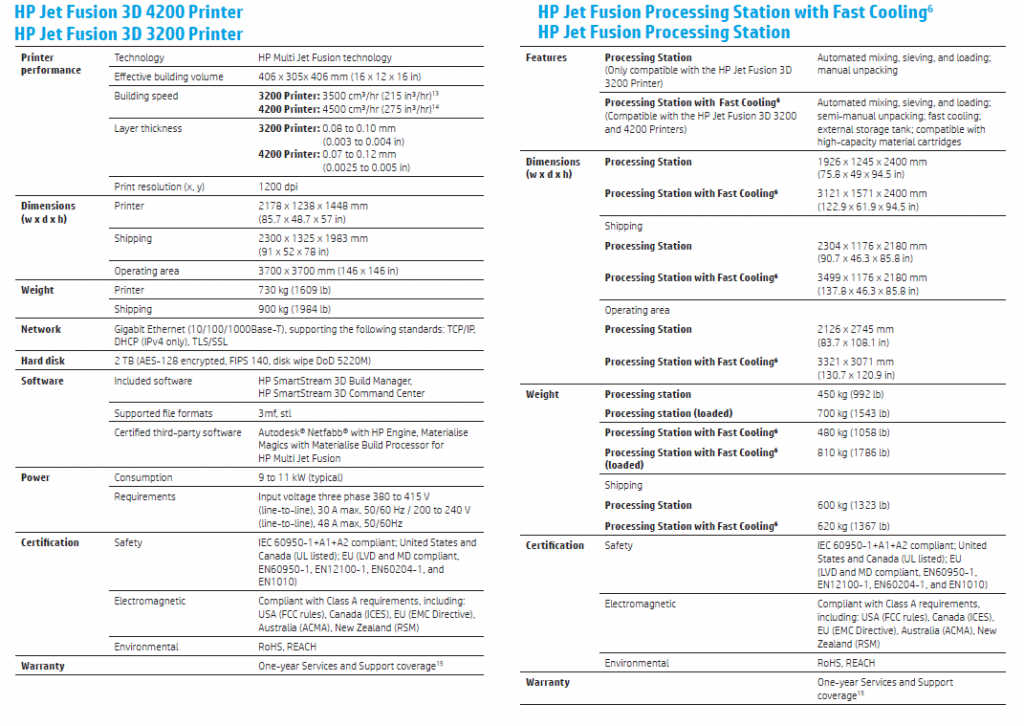 Complementing the printer itself is the Processing Station, which is where the printing process is both initiated and completed. This station loads the powdered material into the printer, and will also recycle material from previous prints, greatly reducing the amount of material waste, and thus, material costs. The MJF printing ecosystem will also include the HP SmartStream 3D Software, a proprietary software engineering to optimize the performance of the entire process.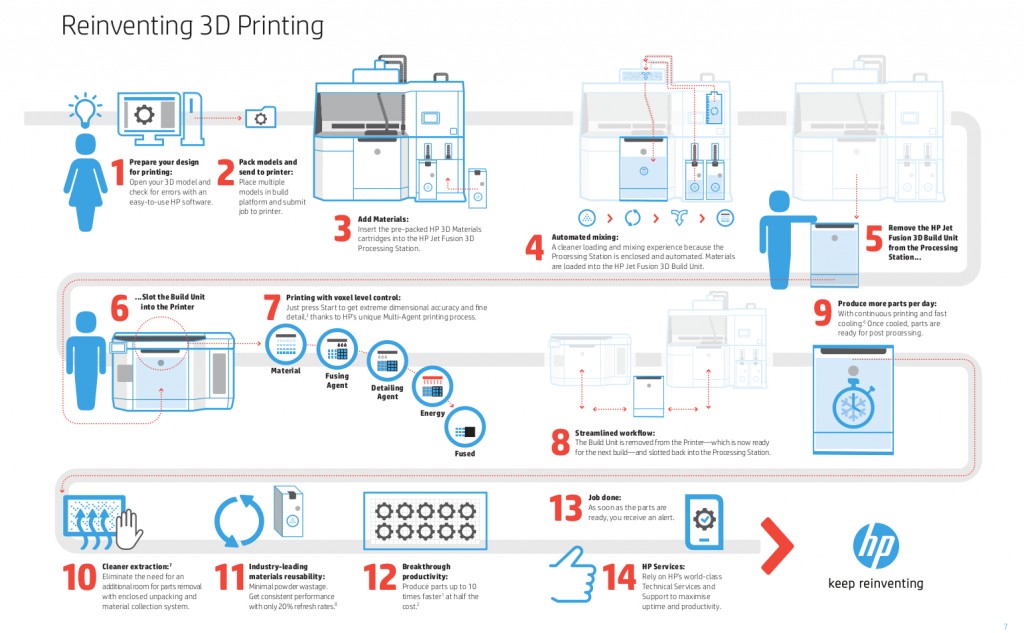 It's extremely early on in the game for HP's Jet Fusion 3D printing systems, and throughout the rest of the year, we should certainly know more about the impact that HP's MJF 3D printers will have on the industrial sector. If it truly does provide the end-to-end solution that they've been boasting about, HP may suddenly find themselves as the leading pioneers of 3D printing technology.