The great advantage of 3D printing technology is the ability to quickly create completely new, previously non-existent solutions. This flexibility can be used by companies and designers in emergency situations, when in a short time there is a huge demand for items that are missing on the market.
Currently, 3D printing technology is used for the rapid production of personal protective equipment such as protective masks and helmets. Zortrax also got involved in helping to fight the COVID-19 pandemic, which proves that additive technologies can find many useful applications in the current situation.
Dr. Jarosław Meyer-Szary from the Clinic of Pediatric Cardiology and Congenital Heart Defects of the Medical University of Gdańsk (GUMed), who is involved in the movement of 3D printing technology propagation among students on a daily basis, currently, together with them, he is printing the necessary equipment. As he says, protective equipment and full-face helmets are made on the equipment handed over from Zortrax. Tests and modifications of various projects are carried out to find the most effective and convenient solution for the user.
He points out that ordinary surgical masks do not provide much protection because they are leaking. They do not stick well to the face, so there is a risk of infection despite their use. The masks currently being tested are intended to be used by healthcare professionals, particularly vulnerable and having direct and long-term contact with sick patients.
Production of this type of solutions also continues at the headquarters of Zortrax. The first batch of 100 visors printed on 3D printers has already arrived to the rescuers of the Olsztyn branch of the Polish Red Cross. In order to ensure that the created solution meets its functions as well as possible, the project was consulted with dr. n. med. Arkadiusz Trzos, head at the Department of Disaster Medicine and Emergency Aid at the Collegium Medicum of the Jagiellonian University and medical rescuers from the Emergency Room at the Ministry of Interior and Administration in Olsztyn. Thanks to the use of filaments such as Z-GLASS and Z-PETG, the helmets can be sterilized and reused.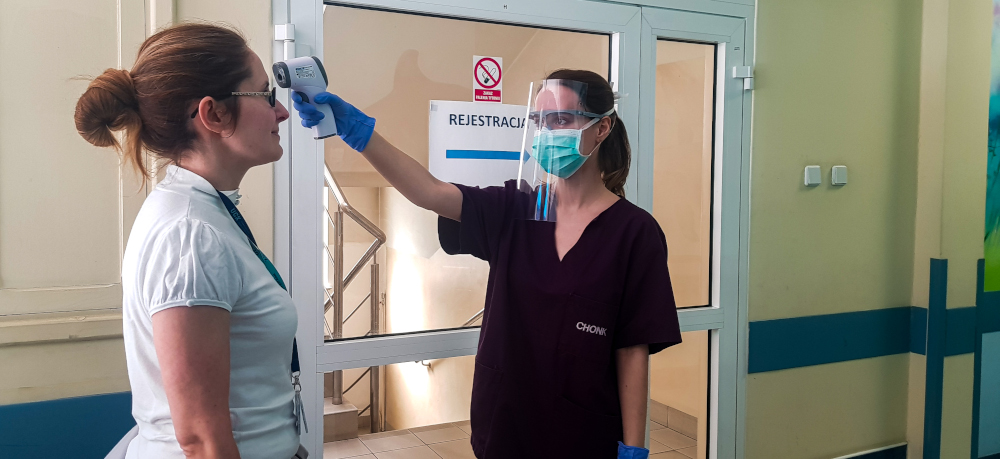 3D printing has also allowed to solve one of the problems faced by healthcare professionals around the world. In crisis situations, where previously unknown people work together – overalls and personal protective equipment make it difficult to identify individual team members. The introduction of visors with several colors from a distance enables the identification of: rescuers, nurses or equipment operators. These minor actions allow for faster and more effective rescue operations.
GUMed and rescuers from Olsztyn are one of the first organizations to receive support from Zortrax. However, the number of projects the manufacturer is involved in is increasing every day.
Mariusz Babula, vice president of the board of Zortrax, says:
Currently, up to 140 3D printers work practically 24 hours a day in our office. Everyone who has such an opportunity engages in work. Every day we also learn that more and more companies and people every day using our solutions have decided to get involved in helping hospitals and medical facilities. The ability to quickly recalibrate the printer and simple, intuitive operation makes the creation of protective equipment possible for everyone. Users who until recently printed original jewelry, parts for motorbikes, cars or designed interior design elements can now become producers of articles necessary for medical services within a few hours.
Zortrax provides access to their helmet design – download link and video with assembly instructions below.