Ultimaker has today introduced a set for 3D printing from metallic filaments – the Metal Expansion Kit, enabling the creation of applications with high mechanical stress and thermal resistance. It is compatible with the Ultimaker S5 3D printer and includes: metallic BASF Forward AM Ultrafuse 17-4 PH filament, BASF Forward AM Ultrafuse Support Layer, new Print Core CC 0.4 and Print Core DD 0.4 printing modules, Magigoo Pro Metal adhesive and access to the exclusive Metal FFF e-learning content available on the Ultimaker 3D Printing Academy.
The kit includes two BASF materials that are automatically recognized by the 3D printer by means of NFC and enable smooth switching between plastic and metal printing on one device. The CURA software introduces new optimized functions for preparing metal parts for 3D printing.
The new kit includes:
all the required elements for the preparation of metal parts, including two print cores to handle both the metallic Ultrafuse® 17-4PH and the support filament; Especially for this purpose, Ultimaker has developed the Print Core DD 0.4 – highly wear-resistant for 3D printing from abrasive material
access to the Ultimaker 3D Printing Academy – developed together with the BASF Forward AM team so that users can benefit from the knowledge base and learn the full workflow with all kinds of guidance using metallic filaments
access to the BASF Debinding and Sintering Order Management Portal – a network of debinding and sintering services for the final processing of the printed part from metallic filaments.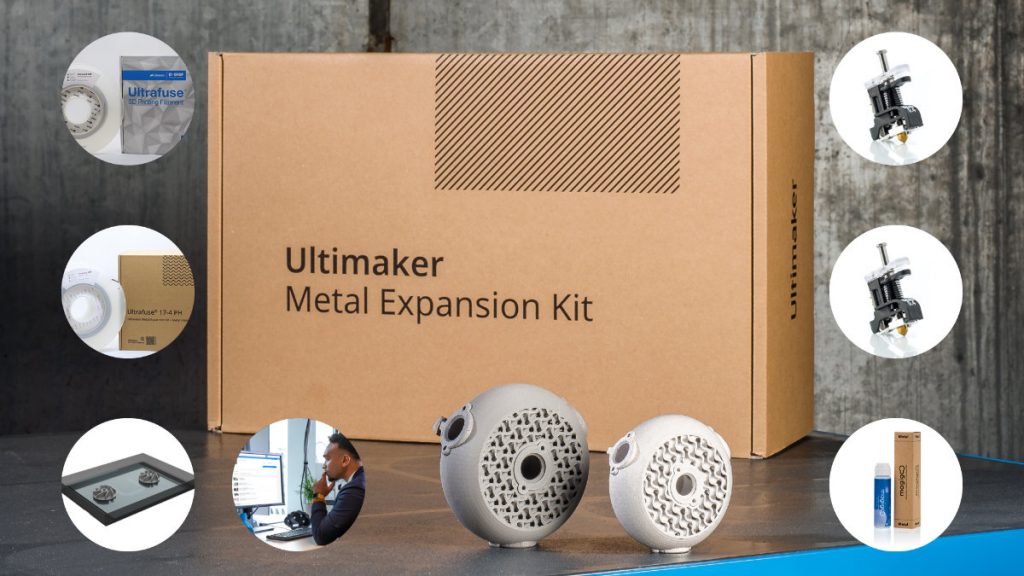 The introduction of the Ultimaker Metal Expansion Kit is accompanied by the release of the MFFF-specific version of the Ultimaker Cura 5.1, which provides a comprehensive set of functions needed to prepare metal parts on the Ultimaker platform. The Ultimaker Metal Expansion Kit will be available in North America, China, the EU and the UK in July 2022. Kit contents vary by country; initially BASF Forward AM Ultrafuse® Support Layer and Ultimaker Print Core DD 0.4 will only be available in the EU and UK.
Source: www.ultimaker.com
Photos: www.ultimaker.com (press materials / all rights reserved)