Omni3D, in response to the growing demands of customers who use industrial 3D printing in their daily work, extends the offer of filaments by another eight specialized materials.
Filaments have appeared on sale, which will certainly find their application in the petroleum, automotive, aviation and even chemical processing industries. Also new in the offer are water-soluble support materials, which facilitate spatial printing of geometrically complex models.
Omni3D's offer includes:
Ultrafuse® ABS Fusion +
Filament, which is used in the automotive industry, used for the production of instruments and car parts. The advantage of this filament is high adhesion (adhesion) to the table, so it is not necessary to use additional adhesives in the printing process. 3D prints have a matte finish.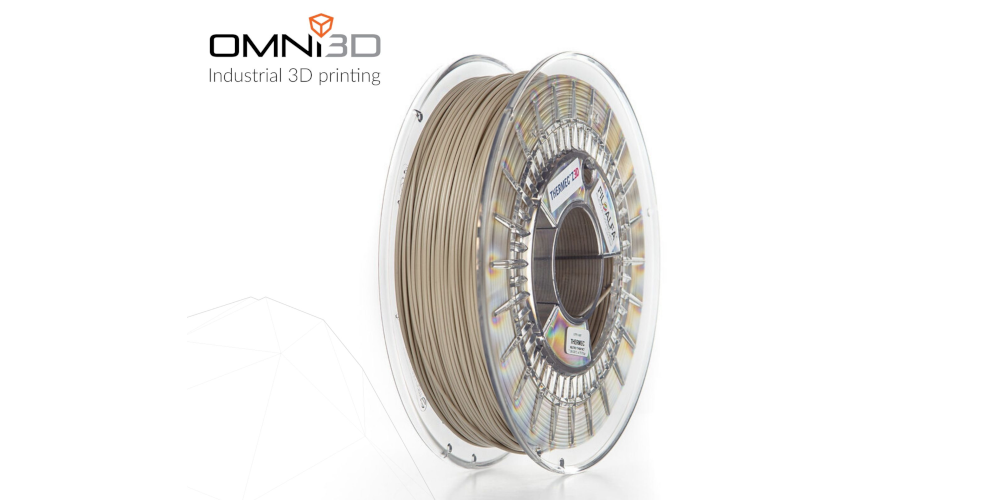 THERMEC™ ZED
It is used for 3D printing of tools and devices exposed to high temperatures and contact with chemicals. Due to high mechanical and thermal strength, it becomes an ideal material for applications in the automotive, chemical, oil and gas industries. Flame retardant and self-extinguishing material with a very good paint coverage.
A-PEKK
Filament created for the most demanding applications in the petroleum, automotive, aviation and chemical processing industries. It is characterized by very high mechanical, chemical, temperature and abrasion resistance. It is resistant to a wide range of chemicals. The material is non-flammable, which confirms compliance with UL94 V0.
PA-12
Nylon with very high tensile, abrasion, bending and impact resistance. Used in the machinery, electrical, automotive, transport and machine building industries. Unbreakable, characterized by high impact strength, very good dielectric properties and dimensional stability.
XSTRAND™ GF30-PA6
Reinforced nylon with very high rigidity, strength and wear resistance – it is 150% stronger and stiffer than ABS. It is characterized by good chemical resistance and UV resistance. Material for the production of functional prototypes and demanding, final industrial parts. It also works well in the production of parts subjected to mechanical stress.
3DXSTAT™ ESD-PETG
A material with high resistance to weather conditions and thermal and mechanical loads. Provides high protection against electrostatic discharge – ESD properties eliminate the risk of damage to sensitive electronic devices. It is used in the electronics, gas, energy and in the production of measuring devices, board handling elements, instruments and connectors.
PVA-20
The polymer is well suited as a support material due to its unique property of dissolving in warm water. It allows easy finishing, even with very complicated shapes, to remove support structures, just leave the 3D print in water for a few hours. Does not require a heated table.
ODS-20
The support material is not soluble in water, but in a mild alkaline solution, and at the same time works very well with technical filaments, i.e. PEKK, PA, PC, ABS / PC, TPU, ASA, ABS or PET. Importantly, the resulting solution can be safely drained to the sewage system.
Detailed information about the products can be obtained by sending a message to [email protected] or by phone: (+48) 881 757 632.