Chinese Flashforge – one of the largest manufacturers of desktop 3D printers in the world, announced the launch of a new device with two independent extruders and a heated chamber called Creator 4. The 3D printer is available in various extruder configurations that allow you to 3D print duplicate parts side by side to faster printing of larger production runs for different filaments. Contrary to the cheaper, typical desktop models of the company, its housing is made of stainless steel.
Flashforge Creator 4 is available in three configuration variants, for 3D printing from various materials. Each model of the device is delivered with two copies of the same extruder, and the rest can be purchased as independent tools. The extruder variants are Extruder F – for 3D printing from flexible filaments, Extruder-HT – for 3D printing for engineering plastics and Extruder-HS – for carbon fiber composite filaments.
Extruder-F is able to print from TPU85A, TPE, TPB, TPC, with a maximum extruder temperature of up to 265°C. Extruder-HT prints from PLA, PETG, PC-ABS, PAHT, ABS, ASA, PP, PA and PC, with a maximum extruder temperature of up to 320°C. Extruder-HS has a maximum extruder temperature of 360°C and enables 3D printing from PACF, PET-CF, PP-CF, PA-GF, PC-ABS, PP-GF, PPS-CF and PPS. The 3D printer is also equipped with a heated working chamber with a maximum temperature of 65 ° C, which is to solve the problem of deformations and cracks in 3D prints.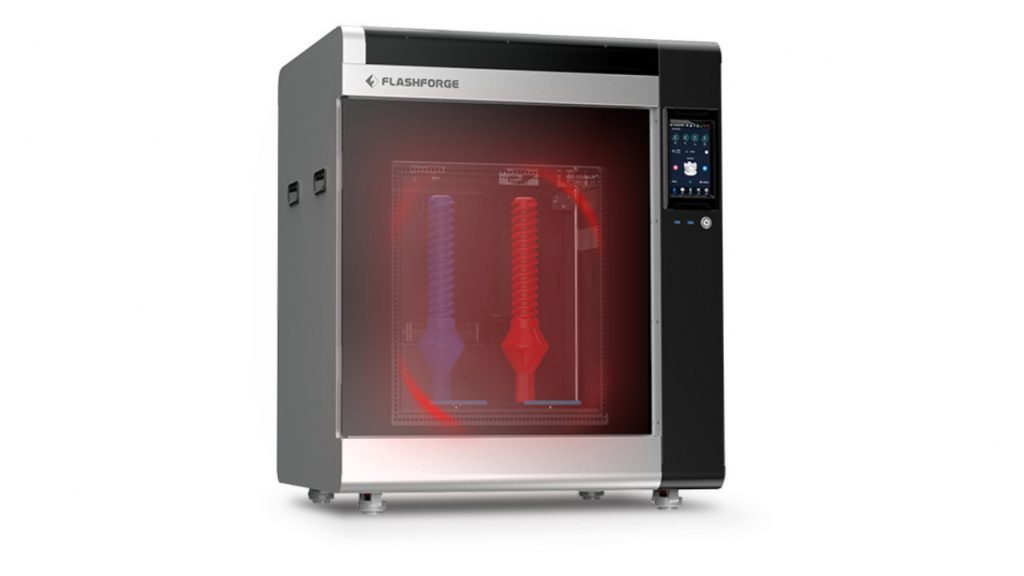 The device is controlled by 4 x 64-bit ARM Cortex A53 processors with silent drivers for ultra-fast and quiet operation. The steel housing is equipped with precision linear guides on the XY axes, which ensure printing accuracy and guarantee the creation of exact duplicate parts in simultaneous printing.
The manufacturer declares over 5,000 hours of stable and continuous printing. Flashforge Creator 4 is intended to be ideal for companies looking to increase the efficiency of 3D printing in industrial and commercial applications on a small and medium scale.
Source: www.flashforge.com via www.3dprinting.com
Photos: www.flashforge.com / photo used only as a right to quote in accordance with Art. 29. Right to quote Copyright and Related Rights Act.