The Polish Pomeranian Science and Technology Park in Gdynia (PPNT) actively supports aid for hospitals as part of the fight against COVID-19. In cooperation with BIBUS MENOS began manufacturing frames for protective shields, used by medical services.
3D printers available in PPNT Gdynia work based on the technology of selective laser sintering of polymer powder. According to Sławomir Olszewski, a specialist in 3D printing at PPNT Gdynia, their great advantage is the fact that they allow the production of not only individual elements, but also small and medium production series from material approved for long-term contact with the skin.
Specialists from the BIBUS MENOS involved in the project have optimized the mask manufacturing process in such a way that the printout is even more efficient. Thanks to this, during one session it will be possible to create even several dozen pieces of fastening elements.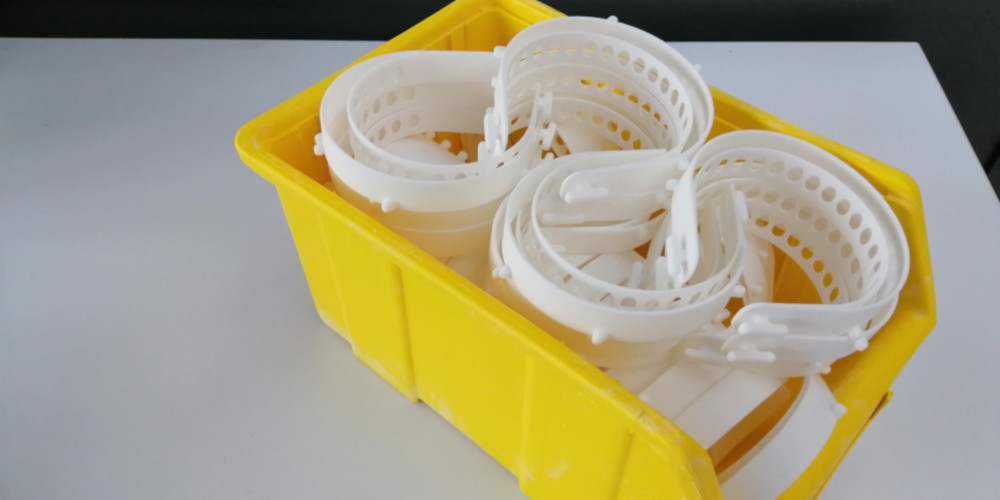 Katarzyna Gruszecka-Spychała, deputy mayor of City of Gdynia, emphasizes that the produced equipment has a prototype character, but the unique situation in which our country found itself in the face of an epidemic tends to try to help the doctors on the first line of the fight against the virus.
The campaign was also supported by the Pomeranian Special Economic Zone, which offered to purchase the material from which visor covers are made. This is a huge help considering the fact that for several weeks the demand for protection measures reported by hospitals from all over Poland is so huge that they have become a scarce commodity. The ready masks will soon be sent to Pomeranian hospitals.