Due to their properties, carbon fibre material composites are very interesting for several industries. The machines using this material for 3D printing are very much desired by automotive and airspace industries among others. Top 3D printing companies as Markforged and Desktop Metal develop their technologies based on carbon fiber, expanding the group of satisfied customers. Now they will be joined by another player in this field – Swiss company 9T Labs, that has just announced raising financing worth 4.3 million dollars.
The collected funds will be allocated to R&D and scaling operations. Investors also provide substantive support – the company is supported by ESA Business Incubation Center, which supports the development of emerging companies, with particular emphasis on the space industry.
9T Labs was founded on the Federal Polytechnic in Zurich. As they admit, their mission is to teach 3D printing with composite materials doped with carbon fibers as accessible as additive creation technologies from metal materials. In implementing its provisions, the company focuses on integrating processes and creating an ecosystem of production solutions – software, production equipment and post-processing equipment.
The ecosystem includes Fibrify software that allows to determine the parameters of the 3D printing process and the distribution of fibers in the element depending on the assumed mechanical load. It is compatible with the proprietary Red Series 3D printer, equipped with a patented print head, allowing 3D printing of composites with continuous carbon fiber (up to 60% of the element). Post-processing of 3D prints is possible with a Fusion Unit peripheral device.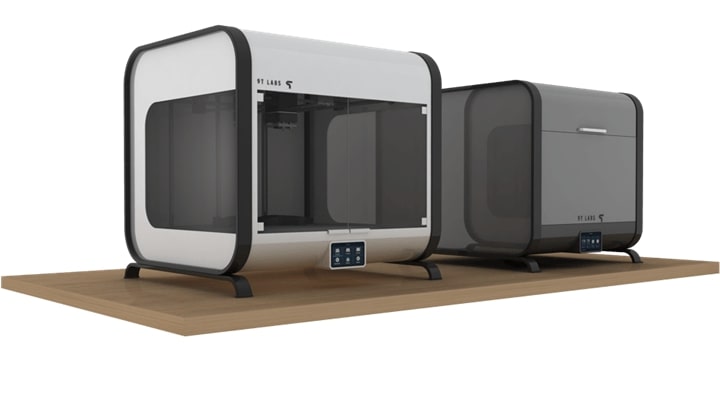 Specialists at 9T Labs believe that additive technologies can help solve existing problems associated with the production of fiber doped composites such as long lead times and high process costs. The use of composites enriched by carbon fiber by manufacturers gives a number of benefits related to the mechanical properties of the material. The elements created in this way remain light while maintaining the strength properties of their heavier counterparts made of metal materials.
Undoubtedly, 3D printing with composite materials with carbon fiber is gaining popularity and in the coming years will gain even more, which is associated with the popularization of carbon fiber, also in everyday objects.
Source: www.3dprintingindustry.com