Quite unexpectedly, it turns out that machines and devices for safe storage and drying of filaments for 3D printers are one of the hottest topics of recent weeks. A number of companies such as Ultimaker, PrintDry and PolyDry have recently presented their latest solutions in this area and as we can now witness, the number of companies that operate in this field is stil rapidly growing! Today, Kodak's 3D printing arm Smart International announced the launch of a new machine for drying 3D printing materials. Realizing the need in the FFF 3D printing market for a new industry-level drying solution, Smart International has developed the Smart3D Multimaterial Dryer to meet the demand for moisture-free filament to ensure consistent print results.
The problem of filament moisture has been described in quite detail in one of the last articles on the site and we encourage you to read it. In a nutshell: 3D printing filaments used in the FDM / FFF technology are thermoplastics that are more or less susceptible to moisture, known as hygroscopicity. Special materials, such as nylon or supporting, water-soluble PVA and BVOH are primarily exposed to it, however, this problem can also manifest itself in the popular in home use PLA or ABS. Polymers – the plastics we print from, are made of chains of molecules connected to each other. The consequence of this is the loss of material from which the workpiece layer is built – this can cause a visible gap on the workpiece surface and much weaker interlayer bonding.
Existing solutions use heat to dry the filament. However, heat is far from being the proper way to dry 3D printing materials, because it affects the physical and chemical characteristics of the materials treated by several degrees, is not necessarily 100% effective at removing all humidity. What's more it's often time consuming with typical cycles taking between 8 and 48 hours and does not allow different materials to be dried simultaneously.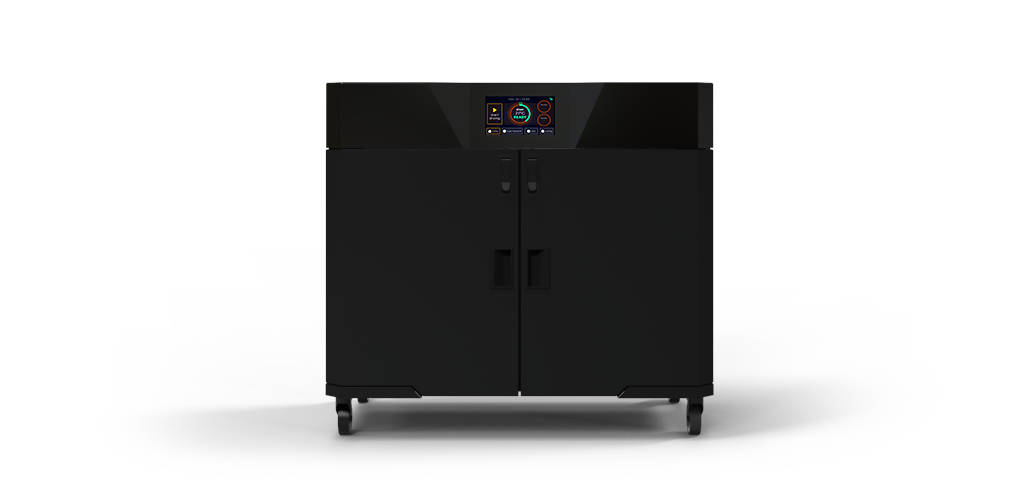 The Smart3D Multimaterial Dryer solves all this by using a hybrid drying technology that results in drying rates that can be up to 10 times faster than existing methods, with dry filament in as little as an hour. In addition, the drying process allows several different materials to be dried at the same time, so it is possible, for example to dry PVA, Nylon and TPU together, something currently impossible using conventional heat dryers.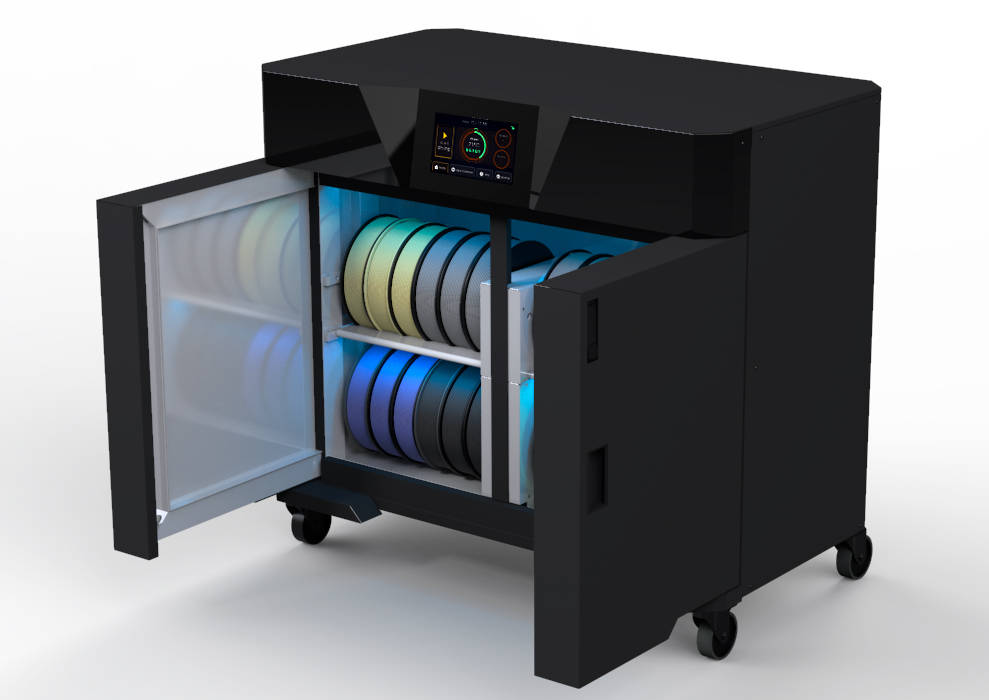 The device is compatible with any 3D printing filament with an up to 500mm / 20" diameter, enabling the drying of virtually any filament spool on the market. Its drying and storage capacity may vary based on spool size, with a maximum of 30 Kodak filament spools. User can keep track of dried material and available stock with the intuitive 7 inch touch screen, which records all the ambient conditions inside the drying chamber, and allows you to scan each filament as you store it. The Smart3D Multimaterial Dryer is also very efficient in terms of energy consumption, up to 10 times less energy than existing dryers, allowing you to process much more material in a far shorter amount of time.
Technical data:
| | |
| --- | --- |
| Product dimensions: | W: 892 mm / 35.1" – D: 500 mm / 19.7" – H: 825 mm / 32.5" |
| Internal storage capacity: | W: 733 mm / 28.9" – D: 250 mm / 9.8" – H: 506 mm / 19.9" |
| Maximum spool diameter: | 500 mm / 19.7" |
| Cycle duration: | <2h |
| Drying capacity: | Up to 30 spools (depending on spool size) |
| Compatibility: | Filament spools of any material and brand |
| Connectivity: | Ethernet, USB Display: 7" full color touch screen |
| Rated voltage: | 110 – 240V / 50 – 60 Hz |
| Auxiliary power outlet: | 110 – 240V / 50 – 60 Hz / 4 – 2A |
| Spool recognition: | Through RFID tag |
| Reports and statistics: | Temperature, humidity and drying cycles |
| Updates: | Via Ethernet |
| I4.0 compliant: | Yes |
Pre-ordering customers will profit throughout February from a 10% discount over the $4299 MSRP or until a limited stock runs out. Pre-ordered units will ship in April. Interested customers may turn to their local resellers for further information and availability.