With the development of materials for 3D printing, the share of additive production in industry is expanding. HP, launching last year the Jet Fusion 5200 3D series devices also offered new materials from the group of elastomers that allow printing of flexible and durable parts with a high level of detail.
Polyurethane elastomers are a rubber-like material with high performance indicators. Their properties can be shaped in a very wide range, which makes them an extremely versatile material. TPU provides value to both designers and end users thanks to a unique set of properties, from soft as rubber to rigid as hard plastics. It is characterized by exceptional abrasion and tear resistance, high elasticity, resistance to oils and solvents, and plasticity in a wide temperature range.
HP is gradually expanding its portfolio of materials that will work even in the most demanding applications in the automotive, electronics, sport and recreation, medicine and many others. In cooperation with BASF, a leading supplier in the chemical industry, which has the richest portfolio of materials that can be used in 3D printing, last year introduced the material Ultrasint TPU 90A-01, which is ideal for prototyping and production, where good shock absorption is needed and elasticity made to measure rubber formed in a wide temperature range.
BELOW: flexible and durable elements made of TPU in HP MJF technology
BASF's portfolio includes a wide range of thermoplastic materials, polyurethanes, acrylate materials (e.g. photopolymers), photoinitiators, functional auxiliaries, stabilizers, pigments and metals.
Manufacturers of footwear, household goods and sports equipment use the unique properties of polyurethanes. This product group consists of plastic elastomers (e.g. Elastollan® (TPU)) and microcell elastomers. These enterprises and strong potential constitute the pillar of work on materials intended for industrial applications of 3D printing.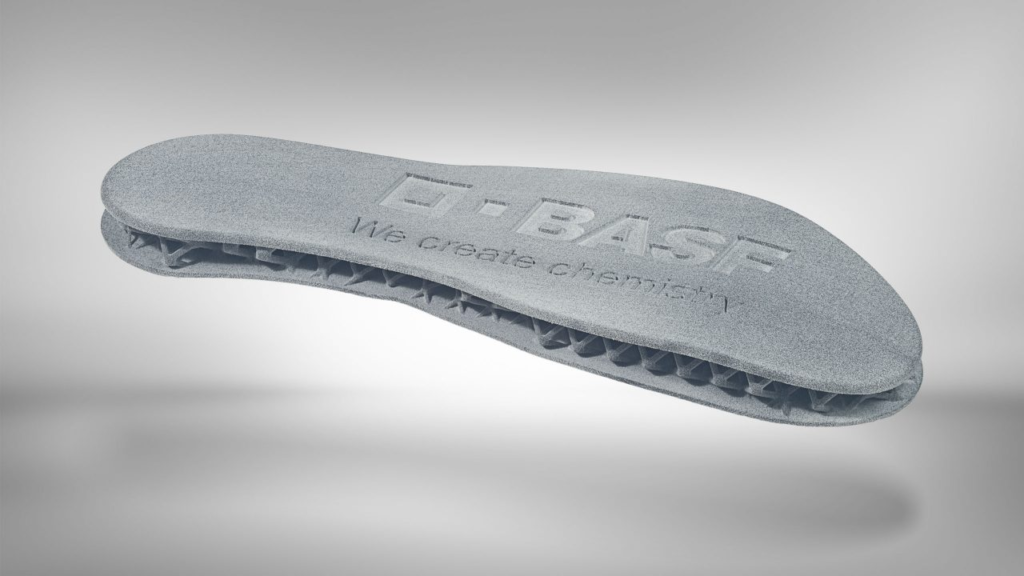 Ultrasint TPU 90A-01 – technical parameters
The Belgian company Materialise as one of HP's main partners is the first in Europe to offer customers TPU for 3D printing, which according to them is characterized by high precision and dimensional accuracy:
Parameter
Value
Dimensional accuracy
±0,3%
Layer thickness
0.1 mm
Minimal wall thickness
0.8 mm, but 0.6 mm thick hinges can be used from native material
The possibility of producing latches and hinges
Yes
Structure's surface
Unfinished parts usually have a smooth surface
in stone-gray color with no visible layers
BELOW: elements for testing the flexibility and strength of TPU material
As an early tester of the new HP Jet Fusion 5200 3D series, which was launched in May last year, Materialize was active in researching and developing applications for the new material from which he printed and prototyped e.g. a small series of protective housings and covers. According to materialize Ultrasint TPU 90A-01 engineers, it is characterized by:
| | | | |
| --- | --- | --- | --- |
| Parameter | XY value | Z value | Standard |
| Density | 1,1 | 1,1 | g/cm³ |
| Shore's hardness | 88 | 88 | (DIN ISO 7619-1) |
| Tensile strength | 9 | 7 | MPa (DIN 53504, S2) |
| Elongation at break | 220 | 120 | % (DIN 53504, S2) |
| Modulus of elasticity | 75 | 85 | MPa (ISO 527-2, 1 A.) |
| Bending module | 75 | 75 | MPa (DIN EN ISO 178) |
| Tear resistance (Trouser) | 20 | 16 | kN/m (DIN ISO 34-1, A) |
| Tear resistance (Graves) | 36 | 32 | kN/m (DIN ISO 34-1, B) |
| Compression ratio at compression B (23°C; 72 hours) | 20 | 20 | % (DIN ISO 815-1) |
| Elastic reflection | 63 | 63 | % (DIN 53512) |
| Abrasion resistant | 140 | 100 | mm³ (DIN ISO 4649) |
| Charpy impact force (notched, 23°C) | Partial fracture | No fracture | (DIN EN ISO 179-1) |
| Charpy impact force (notched, -10°C) | 21 | 29 | kJ/m² (DIN EN ISO 179-1) |
| Rossflex tests (100,000 cycles, 23°C) | No deepening of the tear | | (ASTM D1052) |
| Rossflex tests (100,000 cycles, -10°C) | No deepening of the tear | | (ASTM D1052) |
| Vicat/A(10N) | 84 | 96 | (DIN EN ISO 306) |
| Melting temperature | 120-150 | 120-150 | °C (ISO 11357 20 K/min) |
TPU application areas
Instruments and accessories in the automotive industry are most often made of TPU, e.g. soft grips for scratch-sensitive parts, internal components, lattice constructions – lightweight parts; in industry – components of production line equipment and robots, such as air ducts, complex tubes, grippers and gaskets, components of electronic devices in which parts must be flexible and durable at the same time, in the consumer goods sector, include footwear and sports accessories (helmets, protectors, inserts).
BELOW: elements used on production lines – TPU material, HP MJF printing technology
In cooperation with BASF, HP wants to combine understanding of customer needs and applications with specialist knowledge of materials, and the open platform is to drive the development of large-scale industrial 3D printing in production, where BASF will play a key role in the development of further materials.
HP3D.pl as a distributor of Multi Jet Fusion 3D technology in Poland recommends TPU as an ideal material for production in many applications. Flexibility, shape restoration and shock absorption properties make TPU material ideal for the production of small series of housings and protective covers.