Global warming has a drastic impact on many natural environments around the world, but none of them degrades as fast as coral reefs. Delicate ecosystems, in which various species of animals and ocean organisms live – from algae and invertebrates to fish and birds, suffer from the phenomenon called "coral reef fading", which involves rejection of algae by coral polyps caused by raising the temperature of water in the ocean. There are many initiatives around the world seeking solutions to this problem, and one of them is the use of additive manufacturing. And so, recently the largest coral reef was 3D printed and installed on Summer Island in the Maldives.
Reef Design Lab, based in Melbourne, Australia, is responsible for the project. The artificial reef, designed by designer Alex Goad, consists of hundreds of ceramic and concrete modules, each of which looks like a real coral. To get an authentic coral look, Goad used specialized 3D modeling software to create 220 molds of reef structures.
The forms were printed with use of 3D pritnting technology from ceramics, which was characterized by similar properties as calcium carbonate, forming coral reefs. Then they went to the Maldives, where they were flooded with concrete, put together and sunk in the "Blue Lagoon" lying near the sandy area of ​​Summer Island resort.
The reef lies seven meters underwater, close to the already existing "coral kindergarten". To initiate the development of the new reef, a fragment of the coral from the kindergarten was transplanted into a new artificial coral with the hope that it will grow on the ceramic-concrete structure.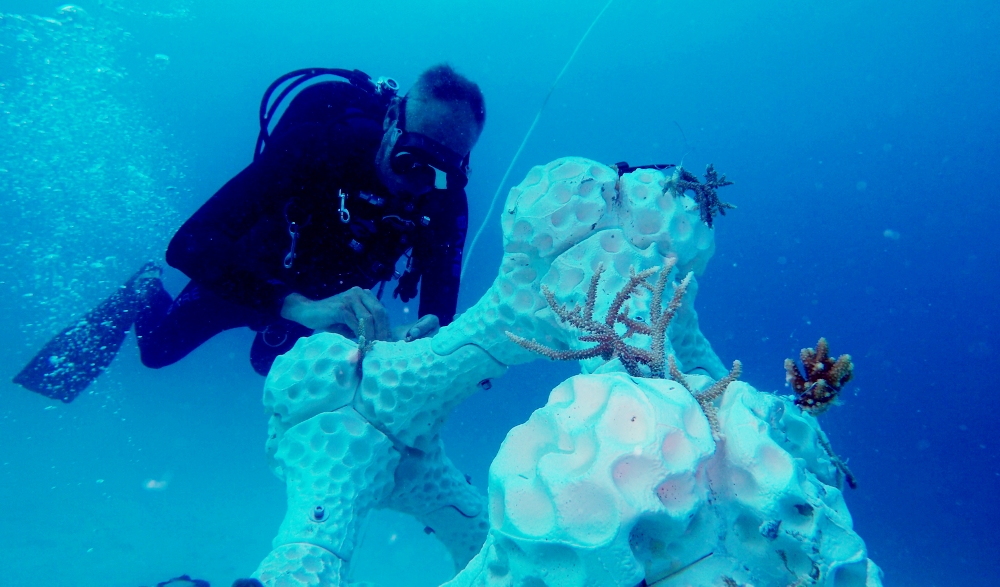 Representatives of Reef Design Lab and Summer Island say that if the project is successful, you will be able to see a new, natural-looking reef in a year or two. It is also obvious that if the venture succeeds, Reef Design Lab will be playing subsequent coral reefs using incremental technologies.
Source: www.youtube.com